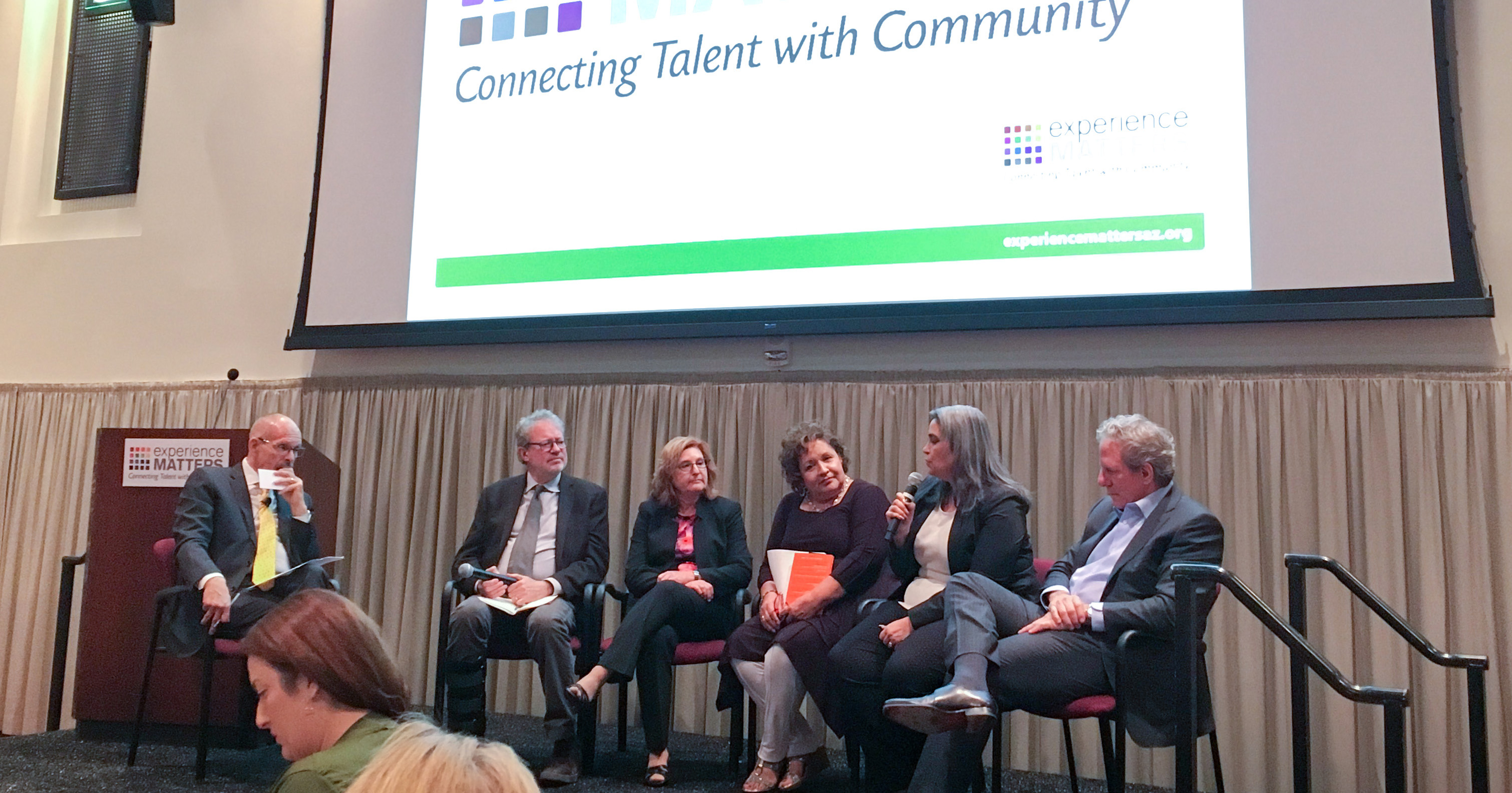 While Arizona was at the forefront in creating age-segregated communities, it can now be a pioneer in building community among generations, said Marc Freedman, a national expert on the changing face of retirement.
And, often, that bridge between generations begins by emphasizing that a focus on young children matters for all Arizonans, including those in retirement.
Freedman is the CEO and founder of Encore.org, which seeks to leverage the talent of people over age 50 by matching them with organizations that could benefit from that experience, especially those which work on causes for children and youth. He recently shared his perspective with an audience of community members at an event convened by Experience Matters, an Arizona-based organization that works locally to connect experienced talent with nonprofits, help them transition to a new career or place them in volunteer service positions.
First Things First's Chief Policy Advisor, Liz Barker Alvarez, participated in a panel discussion at the event, discussing how various organizations work to connect younger and older generations.
"The older generation understands how crucial the first five years (of a child's life) are," Alvarez said.
FTF recruits volunteers across Arizona to serve as regional council members on FTF's 28 regional councils. Alvarez shared that about 10 percent of those council members are retired and another 10 percent of them are working in a second career. The regional councils reflect the state's diversity and represent the array of Arizonans who have a stake in ensuring children arrive at kindergarten prepared to be successful.
As more and more Americans reach retirement age, many are looking for a renewed sense of purpose, Freedman said.
He described the proverb of a man planting an acorn, knowing that he will never live to see the tree full-grown. "A society grows great when old men plant trees in whose shade they know they shall never sit," he said.
Other panelists described how living in multi-generational communities is one way to nurture ways that older generations can pay forward the investments that helped them and their children.
Alvarez encouraged everyone to have conversations with elected officials so they "do understand that investing in young children matters to them," she said. "Convey that all those issues matter," no matter if residents have young children in their lives or not.