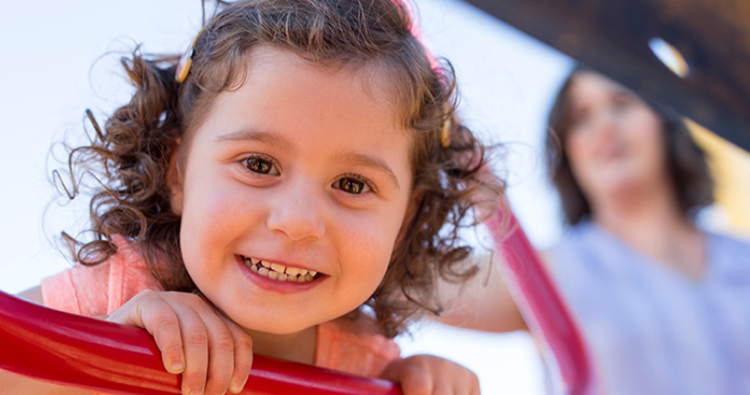 The latest news shows Arizona leading the nation in job growth. That's great for our state, but many parents returning to the job market may find themselves with an unexpected problem: the lack of high quality child care options.
Adding to the challenge is the fact that our state continues to grow. In fact, the number of young children in Arizona is expected to increase by 19 percent by the year 2030.
"On a regular basis, we hear stories from families struggling to find care for their children – often not even considering factors of quality," said Leslie Totten, director of First Thing First's (FTF) Quality First program. "They are in a situation where finding the most convenient placement is priority, so they can get back to work or school as quickly as possible."
With 90 percent of brain development happening between birth to age 5, quality child care is important. In fact, research shows that children with high quality early learning are more prepared for kindergarten, do better in school and are more likely to graduate.  High quality care includes skilled teachers, lower class ratios and environments that meet the unique needs of young learners.
Sadly, data shows that child care is in short supply and that the high cost of quality puts it out of reach for many families.
A 2018 ChildCare Aware study revealed that in Arizona there were 22,000 more young children who need child care than there are child care spots available in licensed centers. And in some areas of the state – like the Phoenix South region – the need is even more pronounced, with four children needing care for every spot available.
Even considering other options such as certified child care homes and informal child care provided by family, friends and neighbors, there is still a large care gap.
As the demand for child care increases, so do the prices. Although the U.S. Department of Health and Human Services recommends families spend no more than 10 percent of annual income for child care, many Arizona parents are paying far more. In 2014, the average cost of full-time infant care ranged from $4,822 to $17,062 per year—between 7 percent and 15 percent of median income for a married-couple household and between 24 percent and 63 percent of median income for a single-mother household.  By comparison, in-state undergraduate tuition at Arizona State University was $10,640 in the 2016-2017 school year.
First Things First is one of the early childhood system partners that is strengthening working families and improving young children's education. In fact, $1 out of every $2 spent by First Things First goes to improving the quality of early learning settings and children's access to those programs.
Quality First (FTF's signature program) partners with about 1,000 child care and preschool providers throughout Arizona to improve the quality of their early learning programs. Over the past five years, the percentage of programs meeting or exceeding evidence-based quality standards has increased from 25% to 71%. This means that 38,281 children in Arizona were in quality early learning programs as a result of First Things First, including 8,809 infants, toddlers and preschoolers who accessed those programs through a Quality First scholarship.
In addition, FTF works with the Department of Economic Security (DES) to ensure Arizona is able to access all available federal child care funds. While $125 million is available each year for child care from the federal government, Arizona cannot access about $37 million of that unless the state spends $30 million on child care related activities. FTF has an agreement with DES that gives the state credit for what FTF already spends each year on improving the quality of and access to early learning, including scholarships. In the eight years that agreement has been in place, FTF's quality early learning investments have helped the state draw down $302 million in federal funding that otherwise would have been lost.
While families throughout Arizona share the need for high quality child care, efforts to address that need may vary, depending on region-specific factors. In order to ensure those strategies meet the unique needs of Arizona's diverse communities, the First Things First Board depends on the advice and recommendations of local volunteer regional councils. Below, are stories from the field that illustrate how a variety of strategies are being implemented across Arizona to enhance quality child care.
Addressing the need in high-population areas
"South Phoenix has 65,000 children under age 6, and 46 percent are living in poverty," said Regional Director Jeannine Bashir, adding that there are four children who need child care for every spot available.
"Parents are competing for that spot, and the person who has the most money to pay will get that spot," said Bashir.
Barriers to finding quality child care often affect a family's ability to maintain employment. To address this need, the Phoenix South Regional Partnership Council invests about 58% of its annual funding on improving child care quality and access. Since 2013, the percentage of providers in the region who meet or exceed quality standards has increased from 17% to 70%. As a result, in fiscal year 2017, 8,676 children in the region were served by providers committed to quality, including 1,327 young children who accessed those programs with a Quality First scholarship.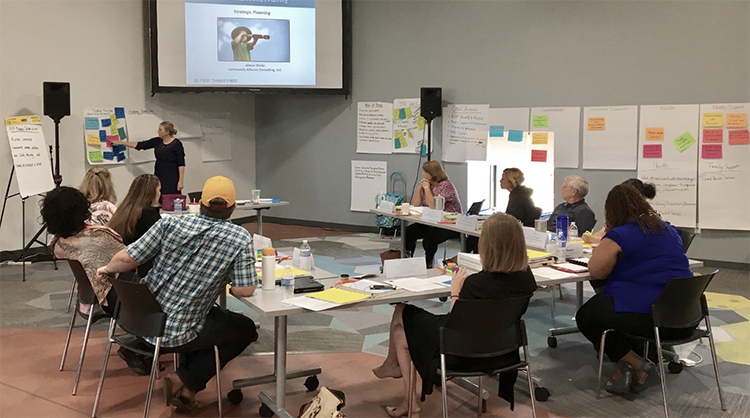 The Family School, a private non-profit child care center in the Phoenix South region, is run by co-founder Sue Johnson. The center currently has a 5-star rating, which is the highest quality. "We have one teacher for every five kids. That low ratio benefits all the kids. If kids don't get scholarships, they can't attend this kind of quality care."
Improving quality in licensed care and providing scholarships is helping, but many families may not want or be able to afford formal early learning settings for their children. In those cases, many parents often turn to family, friends and neighbors to help care for their children. The Phoenix South region is one of eight regions that provide a series of classes to these caregivers that include topics such as early brain development and dealing with challenging behaviors.
In FY2017, 1,274 relatives and other community caregivers statewide completed the series of classes, including 581 caregivers in the Phoenix South region.
"By the quality of care in a variety of early learning settings, we are giving parents options when it comes to finding early education that meets their child's needs," Bashir said.
Partnerships Help a Rural Community Overcome Challenges
In rural parts of the state, where wide open spaces are peppered with mining towns and ranches, child care options are scarce. In the FTF Graham/Greenlee region, which covers the two counties and has a total population of about 3,903 children under the age of 6, there are six licensed child care centers. Fluctuations in the region's major industry – mining – can cause rapids changes in both the demand and supply of child care.
"The price of copper may go down and then people get laid off. It just affects the community," said Deanna Montez, center director for Easter Seals Blake Foundation's Palomita Children's Center in Safford. "But right now we have a waiting list."
To address this need for child care for families in the mining town of Morenci, Freeport McMoran Inc. (FMI), a large mining company in the area, partnered with the school district to create a "state of the art preschool and child care center to address the need of early care and education," said Regional Director Shari Elkins for the Graham/Greenlee region.  Elkins and her regional council partnered with FMI and the school district to enroll both centers in First Things First's signature program, Quality First, and also provided scholarships for families.  They also partnered with their local United Way to provide additional scholarships and financial support to the centers.
The FTF Graham/Greenlee Regional Partnership Council also provides bonuses to early educators in order to retain the most experienced teachers with the youngest students. In FY17, 312 bonuses were awarded to early educators statewide, including 19 in the Graham Greenlee region.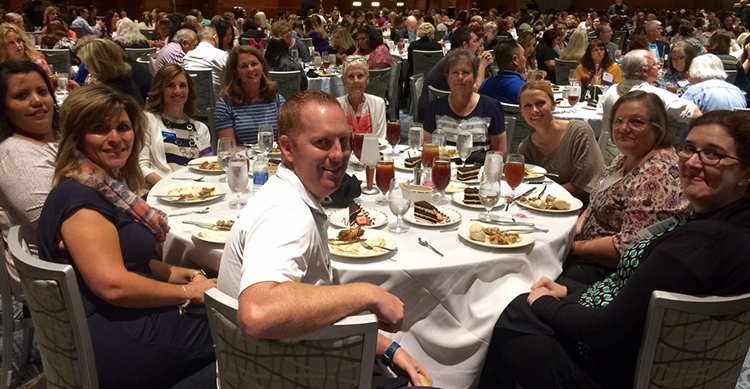 "Early educators who meet the expectations and apply, receive a reward bonus for furthering their education and staying at their centers," said Elkins.
Supporting Early Educators in Arizona's Tribal Communities
Many FTF regions also help expand the skills of those working with young learners. The Tohono O'odham Nation Regional Partnership Council provides scholarships for early educators to increase their education levels. The scholarships cover the costs of tuition, fees and books. In FY17, 1,557 scholars statewide expanded their skills working with young children through a college scholarship, including two early childhood professionals from the Tohono O'odham Nation.
"The council recognized the importance and need for high quality education and focused on the significant role that early care and education professionals have in supporting the development of young children," said Travis Le Duc, director for the FTF Tohono O'odham Nation Region.
The region has a total of eight child care centers, all participating in Quality First. In 2017, 327 children in the Tohono O'odham Nation attended preschools and child care programs committed to quality, including 39 children birth to age 5 who received scholarships to attend those high quality early learning settings.
In addition to support for those centers in quality improvement, professional development opportunities are provided to early educators through the Tohono O'odham Community College (TOCC) and the FTF-funded community of practice.
"As a result, all early care and education environments that serve children in the Tohono O'odham Nation have a certified or degreed professional leading the room," Le Duc said.
When Pisinemo Head Start began participating in Quality First in 2013, the center had a 2-star rating, which means the center was approaching quality standards. The center's director, Nisto Ramon, took it upon himself to earn his bachelor's degree in early care and education. His commitment to improving himself and the center resulted in Pisinemo's current 4-star rating. Through education, he learned how to provide the best care for children and Quality First helped to coach him and his staff to reach higher standards.
"Results of this work are raising the bar and accessibility of high-quality early learning for the children living in the Tohono O'odham Nation," said Regional Partnership Council Chairwoman Kymberlii Tenario.
Families are seeing the results of improved quality care in their children's development. Catherine Toro's 3-year-old daughter, Hailey, received a Quality First scholarship to enroll at the Indian Oasis Elementary School Preschool in Sells. Hailey had always been a little shy, but within months of enrollment, her mother began to see an improvement in Hailey's social skills. That first year, Hailey developed socially and also strengthened her literacy and language development. She is now entering kindergarten with the necessary tools to help her succeed, Toro said.
"The program is great for the kids," Toro said. "Helping them be ready to learn to read and grow socially, which I believe will make an impact on the whole community."
Through the strategies noted above, First Things First is contributing to a statewide movement to expand early learning opportunities for young children. The organization will continue working with system partners and pursuing public/private partnerships that allow more children the opportunity to access the programs and services that help them arrive at school healthy and ready to succeed.