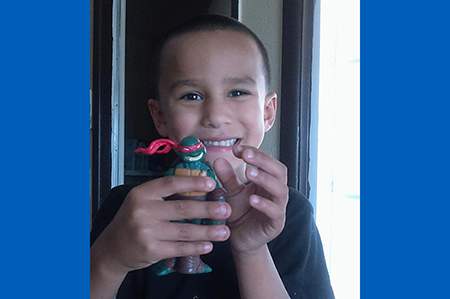 When Victoria Roybal needed to find child care for her toddler, she wanted most to find a caregiver she could trust.
This was even more critical for her son Angelo because as an infant, he was diagnosed with dysphagia, a condition that causes swallowing difficulties and other developmental delays.
Roybal found a partner in his care through Charter Oak Academy in Peoria which participates in Quality First, a signature program of First Things First, which partners with child care and preschool providers to improve the quality of early learning across Arizona.
Quality First funds quality improvements that research proves help children thrive, such as training for teachers to expand their skills and to help create learning environments that nurture the emotional, social and academic development of every child. The in-home child care center is a Highest Quality rated center.
Center Director Valerie Forney took time to accommodate Angelo's health care needs, Roybal said.
"I felt like she went the extra mile to make sure he was safe. I could drop him off with peace of mind, and never have to worry. She was amazing."
Forney ensured that Angelo received the proper food and drinks and she even learned some sign language to help communicate with him until his speech improved.
After four years at Charter Oak, Angelo is now thriving in kindergarten. Although he still faces challenges, his mom said he is far ahead of where he might have been if he hadn't benefited from the high-quality care he received in his early years.
Angelo was able to receive high-quality care with the help of a Quality First scholarship. The single mom and a full-time nursing student said she is grateful for the opportunity that Angelo had to attend a center where he learned to love books and become accustomed to routines, which helped his transition to school.