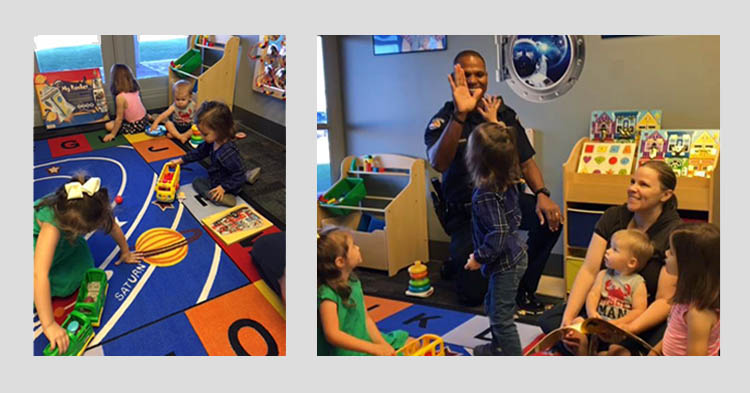 Parents visiting the Surprise Resource Center now have a fun, safe educational space to capture their young children's attention while searching for jobs and connecting to community resources.
The City of Surprise created "The Launch Pad," a developmentally-friendly playroom for children birth to age 5, to engage families and raise awareness of the importance of early childhood development, health and kindergarten readiness. First Things First partnered with the city to provide early childhood information to connect parents and caregivers with FTF and the funded early childhood resources in the FTF Northwest Maricopa Region .
This innovative project originated with conversations between Tammi Watson, FTF's community outreach coordinator in the region, and Seth Dyson, human services and community vitality director for the City of Surprise. Raising awareness by providing early childhood information complements the center's mission of comprehensively serving the whole person and family.
"Families are already accessing the Surprise Resource Center for crisis services and other resources to gain stability," Dyson said. "We see this as a great opportunity to embed a space to foster more family engagement time in an attempt to grow stronger families. It also provides access to developmental tools geared toward brain development and literacy foundations."
The Surprise Resource Center is a one-stop-shop for social services for more than 160,000 people living in the Surprise-El Mirage area, which is about 20 miles northwest of Phoenix. Surprise is the fifth-fastest growing city in the U.S., and 12 percent of its children under age 6 are living in poverty. Through strategic partnerships with community-based organizations and government agencies like First Things First, the Center offers residents connections to services that include everything from rent and utility assistance to employment support to food and nutrition resources.
The Launch Pad opened in October with a "Lift-Off" event hosted by Surprise Vice Mayor Todd Tande and attended by City Council Members Ken Remley, Skip Hall and Jim Hayden. The grand opening also served as a resource fair for guests to learn more about FTF-funded early childhood programs and individual support services available through various city partners.