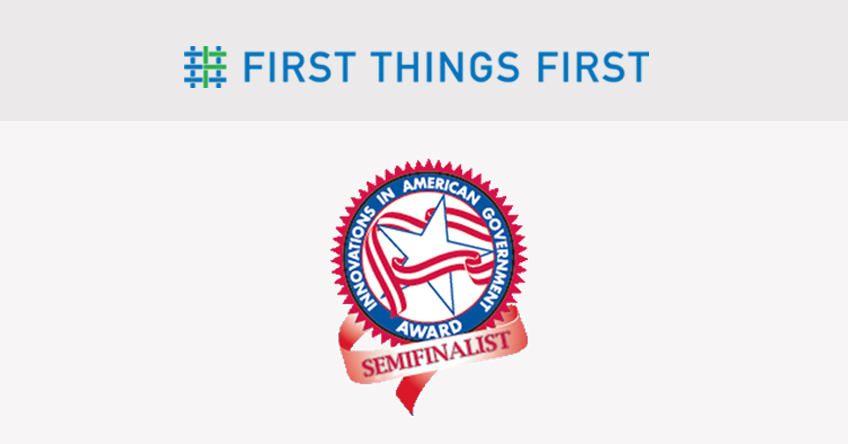 The Ash Center for Democratic Governance and Innovation at the John F. Kennedy School of Government, Harvard University, has recognized First Things First as a semifinalist in this year's Innovations in American Government Awards competition.
First Things First advanced from a pool of more than 500 applications from all 50 states, and was selected by the Innovations Award evaluators as examples of novel and effective action whose work has had significant impact, and who they believe can be replicated across the country and the world. FTF's application centered on an innovative citizen-led and tiered governance structure that engages Arizonans as volunteer leaders in ensuring that Arizona's early childhood funds are invested in strategies that improve outcomes for young children statewide, while honoring local needs and priorities.
"These volunteers embody the concept of citizen government. First Things First is rooted in the belief that local leaders are best positioned to make decisions about what children in their communities need in order to be ready for school and set for life," said First Things First Board chair Nadine Mathis Basha. "This shared governance structure is as an example of what can be achieved when government and communities work together to improve the lives of citizens."
Hear from volunteers who serve on FTF regional partnership councils:
Recognized as part of the 100 programs named as semifinalists, First Things First will compete to be named a finalist in the competition and have the chance to be awarded the $100,000 grand prize in Cambridge this spring.
"These programs demonstrate that there are no prerequisites for doing the good work of governing" said Stephen Goldsmith, director of the Innovations in American Government Program at the Ash Center, "small towns and massive cities, huge federal agencies and local school districts, large budgets or no budgets at all — what makes government work best is the drive to do better, and this group proves that drive can be found anywhere."
Please visit Harvard's Government Innovators Network for the full list of semifinalists and more information about the Innovations in American Government Awards. You can also read our press release about this recognition and learn more about our Board and regional councils.