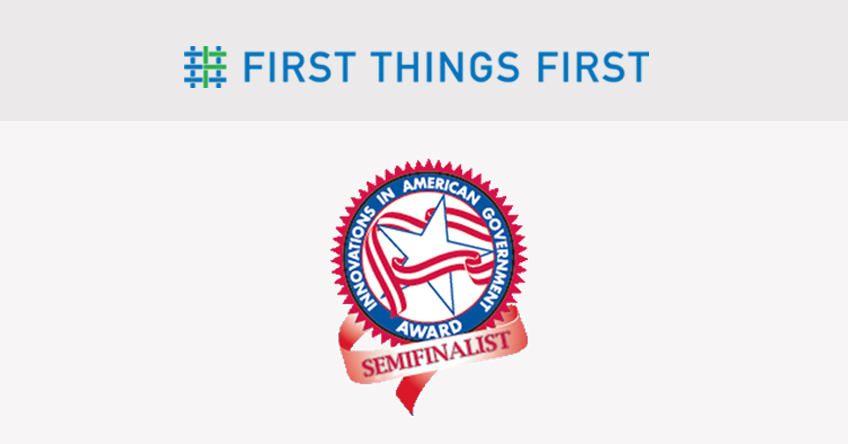 PHOENIX – (January 18, 2017) The Ash Center for Democratic Governance and Innovation at the John F. Kennedy School of Government, Harvard University, recognized today First Things First as part of the 100 programs named as Semifinalists in this year's Innovations in American Government Awards competition. First Things First will compete to be named a Finalist in the competition and have the chance to be awarded the $100,000 grand prize in Cambridge this spring.
First Things First advanced from a pool of more than 500 applications from all 50 states, and was selected by the Innovations Award evaluators as examples of novel and effective action whose work has had significant impact, and who they believe can be replicated across the country and the world.
Created by Arizona voters, First Things First works to expand and enhance early childhood education, health and parenting programs that ensure more children arrive at kindergarten prepared to be successful. Through a unique tiered governance structure, First Things First has engaged hundreds of volunteers to serve on the Board and regional councils and make decisions about how early childhood funds are spent. To date, those volunteers have donated more than 288,000 hours of their expertise, insight and commitment in service to kids birth to 5 across Arizona.
"These volunteers embody the concept of citizen government. First Things First is rooted in the belief that local leaders are best positioned to make decisions about what children in their communities need in order to be ready for school and set for life," said First Things First Board chair Nadine Mathis Basha. "This shared governance structure is as an example of what can be achieved when government and communities work together to improve the lives of citizens."
Through its innovative structure, First Things First decisions reflect the perspectives of the array of Arizonans who have a stake in ensuring children arrive at kindergarten prepared to be successful, including parents, tribal representatives, educators, health professionals, and leaders in business, philanthropy and faith. The structure balances statewide impact with local flexibility, with an emphasis on transparency and accountability. The Board is responsible for ensuring that strategies funded by First Things First improve outcomes for young children. The regional councils are responsible for ensuring that those strategies meet local needs and address community nuances, such as cultural considerations and service to families in rural areas.
"These programs demonstrate that there are no prerequisites for doing the good work of governing" said Stephen Goldsmith, director of the Innovations in American Government Program at the Ash Center, "small towns and massive cities, huge federal agencies and local school districts, large budgets or no budgets at all — what makes government work best is the drive to do better, and this group proves that drive can be found anywhere."
The Semifinalist programs represent a cross-section of jurisdictions and policy areas and embody one of the most diverse and sophisticated groups that have advanced to this stage in the competition's 30-year history. They were invited to complete a supplementary application last fall, answering in-depth questions about their work, the process of creating and sustaining their programs, and how they believe they can teach others to do what they do. The Ash Center expects to announce 10 programs that will be named Finalists and be invited to Cambridge to present to the Innovation Awards Program's National Selection Committee in March, with the grand prize winners to be named in June.
Please visit the Government Innovators Network at http://innovations.harvard.edu for the full list of Semifinalists, and for more information regarding the Innovations in American Government Awards.
For more information, contact:
Daniel Harsha
Associate Director for Communications, Ash Center
617-495-4347
Liz Barker Alvarez
Chief Policy Advisor, First Things First
602.771.5063 lbarker@nullazftf.gov
About the Ash Center for Democratic Governance and Innovation
The Ash Center for Democratic Governance and Innovation advances excellence in governance and strengthens democratic institutions worldwide. Through its research, education, international programs, and government innovations awards, the Center fosters creative and effective government problem solving and serves as a catalyst for addressing many of the most pressing needs of the world's citizens. For more information, visit www.ash.harvard.edu.
###
About First Things First – First Things First is a voter-created, statewide organization that funds early education and health programs to help kids be successful once they enter kindergarten. Decisions about how those funds are spent are made by local councils staffed by community volunteers. To learn more, please visit firstthingsfirst.org.