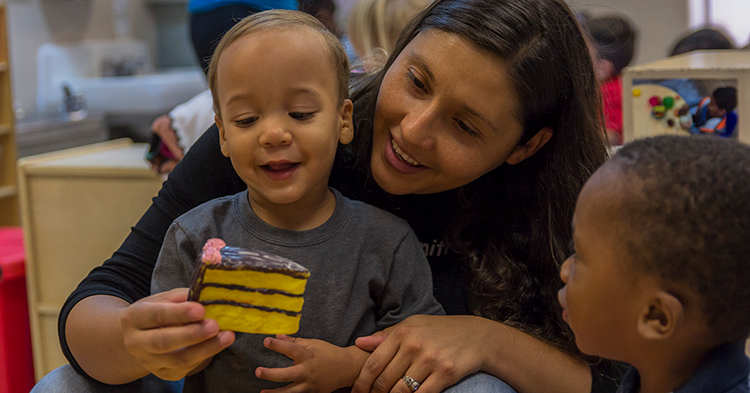 For the majority of Arizona families, all the adults in the home work outside the home. That leaves many parents with young children with an important decision to make. How does a parent find a quality child care center or preschool for their young child?
This question is even more important as evidence grows that hiqh-quality early learning settings build a foundation for a child's later success. Research shows 90 percent of a child's brain develops before age 5. The positive, nurturing relationships young kids have with adults, from parents to child care and early learning professionals, shape their learning now and throughout their lives. Quality child care and preschool settings help children develop skills like motivation, self-control, focus and self-esteem that are crucial to their success now and once they enter school.
How can families know what a quality early learning setting looks like? First Things First (FTF) can help with some resources to make the search a little easier.
First, visit the child care center or home-based program in person and take the Quality Child Care checklist with you to help.  The checklist includes questions such as asking about the teachers' qualifications and the ratio of teachers to students.
There are also things to observe at the visit, such as watching for positive, nurturing teacher/child interactions  including the teachers making eye contact with the children, smiling and listening without interrupting.
Look for places that build on basic health and safety to include:
teachers and caregivers who know how to work with infants, toddlers and preschoolers.
learning environments that encourage creativity and imaginative play.
hands-on activities that stimulate and encourage positive brain connections in children.
caregivers who provide regular feedback to parents on the development of their child.
In many Arizona communities, families can also search for programs enrolled in Quality First. As FTF's signature program, Quality First partners with almost 1,000 child care providers and preschools in Arizona to improve the quality of care for children birth to age 5. Over the past six years, the percentage of programs meeting or exceeding evidence-based quality standards has increased from 25 percent to 74 percent.
Through QualityFirstAZ.com, Quality First also provides families with information about the importance of quality in child care and early education; what quality looks like in order to promote learning; and tools to help families find quality child care or preschool programs in their area. And in some cases, a scholarship may be available for the child to attend.
There's an online search tool available where families can check if there are centers, homes or preschools participating in Quality First in their area. Keep in mind, that Quality First is a voluntary program for child care centers and preschools and FTF does not have the capacity to enroll all providers in Arizona who are interested in participating. There are many quality programs in Arizona not enrolled in Quality First.
For more tips to help with their search for quality child care and preschools visit QualityFirstAZ.com.
###
About First Things First – First Things First is a voter-created, statewide organization that funds early education and health programs to help kids be successful once they enter kindergarten. Decisions about how those funds are spent are made by local councils staffed by community volunteers. To learn more, visit FirstThingsFirst.org.