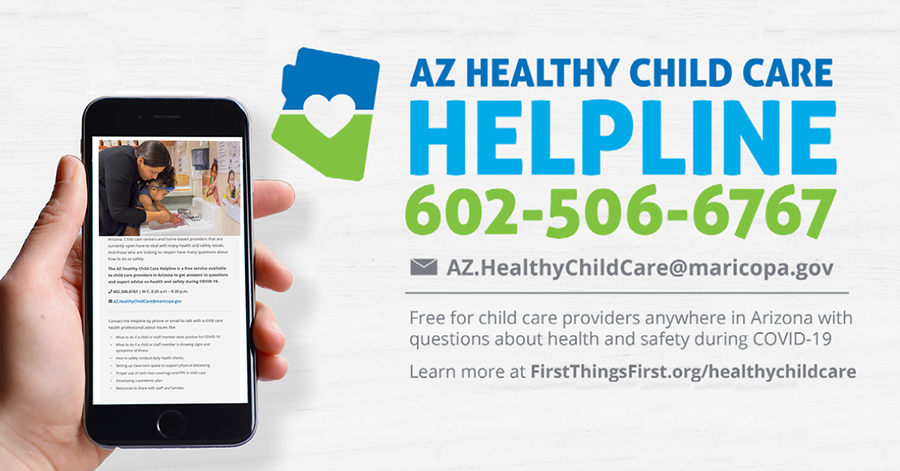 PHOENIX (Jan.15, 2021) – First Things First (FTF), Arizona's early childhood agency, has received a $200,000 grant from the PNC Foundation to provide support to child care programs seeking health and safety guidance as they work to operate safely during the COVID-19 pandemic.
The grant from the PNC Foundation has allowed the creation of the AZ Healthy Child Care Helpline. Child care centers and home-based child care providers are now able to call or email the helpline to get connected with a child care health consultant (CCHC) liaison. These trained health experts can address questions and concerns about required and recommended COVID-19 health and safety strategies that child care centers should follow to reopen or stay open safely.
"The First Things First organization holds a unique and important position in guiding quality early childhood education and care in our state," said Cathleen Walker, PNC regional president and head of corporate banking, Arizona. "We are proud to support the work that FTF is doing on behalf of our youngest learners to strengthen efforts for ensuring a safe environment during this critical time in our local communities."
"This grant provides us with a significant opportunity to help address the critical needs of child care centers during the COVID-19 pandemic," said FTF Senior Director for Children's Health Vincent Torres. "The CCHC liaison will be available to provide one-on-one virtual support for providers as well as a virtual community of practice meetings/trainings on a regular basis and the topics will be based on current trends identified through email and call inquiries."
Child care providers struggled in 2020 as many were forced to close after the coronavirus pandemic hit Arizona. Those providers who have re-opened are serving fewer children than before as they navigate new health and safety guidelines.
The Maricopa County Department of Public Health will administer the grant. The liaison will ensure the COVID-19 health information and resources made available to child care providers are consistent with state, federal and local guidelines and requirements. They also will establish a contact person at each county health department to help them understand specific local COVID-19 reporting procedures and proclamations that impact child care providers.
The AZ Healthy Child Care Helpline is available to Arizona child care programs not enrolled in FTF's Quality First program. Those enrolled in Quality First will be routed to a child care health consultant who is already assigned to them.
A survey from Child Care Resource and Referral from earlier this year showed that licensed child care providers in Arizona cited meeting health and safety guidelines for their programs, potential for getting sick and lack of clarity on COVID-19 health and safety guidance as some of the top barriers to reopening.
"This grant provides a way for child care providers to feel more confident in knowing they are doing their best to keep children in their care and their employees safe," said Stephen Sparks, director of FTF's Fund Development and Strategic Investments. "Since the pandemic started, more and more people are recognizing how important child care is for the day-to-day function of society. "This grant is a way to make a tangible impact on Arizona's early childhood programs."
The AZ Health Child Care Helpline is free and available at 602-506-6767 from 8:30 a.m. to 4:30 p.m., Monday through Friday, or email AZ.HealthyChildCare@nullmaricopa.gov.
###
About PNC Foundation
The PNC Foundation, which receives its principal funding from The PNC Financial Services Group (www.pnc.com), actively supports organizations that provide services for the benefit of communities in which it has a significant presence. The foundation focuses its philanthropic mission on early childhood education and community and economic development, which includes the arts and culture. Through Grow Up Great, its signature cause that began in 2004, PNC has created a bilingual $500 million, multi-year initiative to help prepare children from birth to age 5 for success in school and life.
About First Things First
As Arizona's early childhood agency, First Things First funds early learning, family support and children's preventive health services to help kids be successful once they enter kindergarten. Decisions about how those funds are spent are made by local councils staffed by community volunteers. To learn more, visit FirstThingsFirst.org.