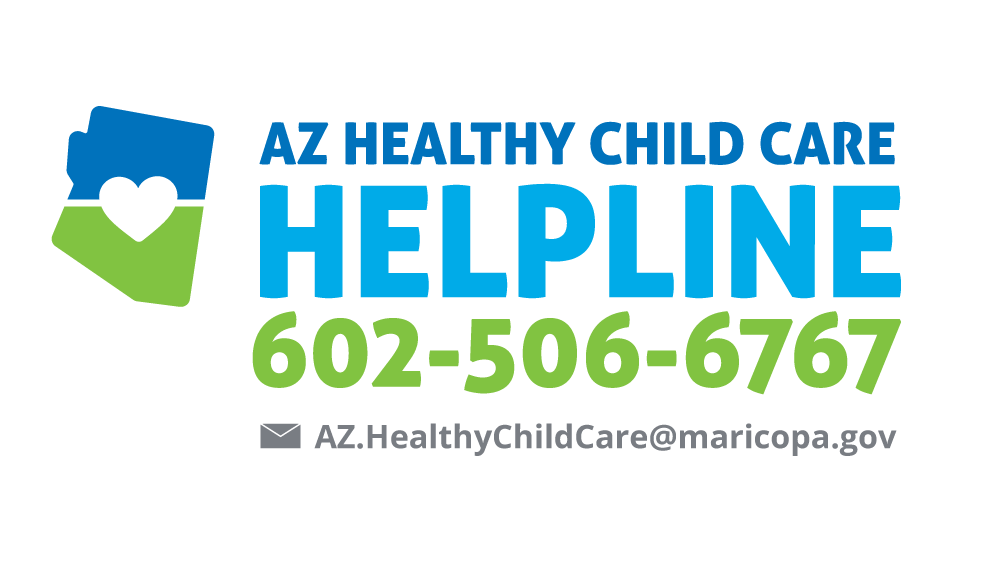 The COVID-19 crisis has been hard on child care providers in Arizona. Child care centers and home-based providers that are currently open have to deal with many health and safety issues. And those who are looking to reopen have many questions about how to do so safely.

The AZ Healthy Child Care Helpline is a free service available to child care providers in Arizona to get answers to questions and expert advice on health and safety during COVID-19.

602.506.6767, EXT 2 | M-F, 8:30 a.m – 4:30 p.m.

AZ.HealthyChildCare@maricopa.gov
---
Contact the Helpline by phone or email to talk with a child care health professional about issues like:
What to do if a child or staff member tests positive for COVID-19
What to do if a child or staff member is showing signs and symptoms of illness
How to safely conduct daily health checks
Setting up classroom space to support physical distancing
Proper use of cloth face coverings and PPE in child care
Developing a pandemic plan
Resources to share with staff and families

Free for Early Care and Education Providers in Arizona
The AZ Healthy Child Care Helpline is a free service available to all types of licensed or regulated child care providers operating anywhere in Arizona. Home-based providers, group centers, preschools, tribal and military programs that are not already eligible to receive services from Quality First child care health consultants can call the Helpline Monday through Friday from 8:30 am and 4:30 pm or send an email any time.
1-on-1 Support from Child Care Health Professionals
When planning to provide care for young children during COVID-19, it's easy to feel overwhelmed and unsure of where to find reliable advice. On a daily basis, you face critical decisions such as: how should you screen for an illness; what do you need to change in your child care space; what should you do if a COVID-19 case happens in your program; and is physical distancing even possible with young children?
Your call or email to the AZ Healthy Child Care Helpline will be answered by a child care health consultant (CCHC) from the Maricopa County Department of Public Health. CCHCs are health professionals who are specially trained to work with early care and education providers to promote safe and healthy learning environments for young children and staff. They are available to provide you with information on best practices and practical strategies for your specific needs based on guidance from the Centers for Disease Control and Prevention (CDC), Arizona Department of Health Services (ADHS) and more.
About the AZ Healthy Child Care Helpline
The AZ Healthy Child Care Helpline is made possible by a grant from the PNC Foundation. It is operated by the Maricopa County Department of Public Health in partnership with First Things First, Arizona's early childhood agency.

---
Partner Resources
One-Sheet PDF
Flyer / PDF
Sample Email
Email Template
Website/Social Media Graphics
Social Graphics
Sample Social Media Messages
Social Messages