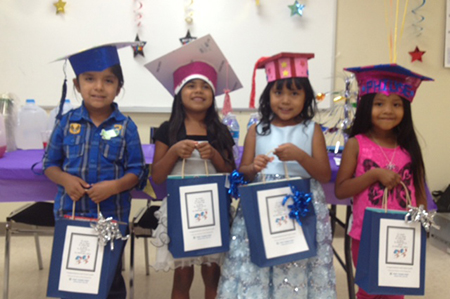 Daniella Parley wanted her son to be successful in school, but she didn't know where to start. Gabriel Pablo was 3 years old when his mother heard about the Family Support and Child Development Program on the Tohono O'odham Nation.
First Things First funds the program, which provides support at no charge to families with children birth to 5 years in early childhood development, education, health and obtaining other services.
Parley and her son soon had a Maternal and Child Health Advocate from the program visiting them at home every week for an hour.
One of the most important things Parley learned from the advocate was how important it was to start reading to her son. The advocate explained that families can help foster early language and literacy skills by reading 15 minutes a day to a child, no matter their age.
"I realized how important it is to begin early," Parley said. The daily reading to her son eventually turned into Gabriel reading to his mom.
"At first he would get certain letters mixed up when reading too fast, but with practice he was able to slow down and correct himself," Parley said.
After the visit, the advocate would sometimes leave projects that Parley would complete with Gabriel before the next visit.
The program not only helped Gabriel improve his reading skills, but has helped create a close bond between mom and son.
"The program has encouraged me to read to Gabriel at least 15 minutes a day, and being a single mother and working all the time it's sometimes hard to get that one-on-one time with my son," she said. "Through reading we have grown closer as a family."
Gabriel, who is now 6 years old and in first grade, continues to love reading. He brings home a new book every day, loves the library and helping classmates with reading skills, his mom said.
"At his school they have a Reader of the Day, which means the class will choose a book and a volunteer will stand in front of the class and read it out loud," Parley said, and Gabriel is first to volunteer. "I'm constantly telling him he needs to give other kids a chance to read!"