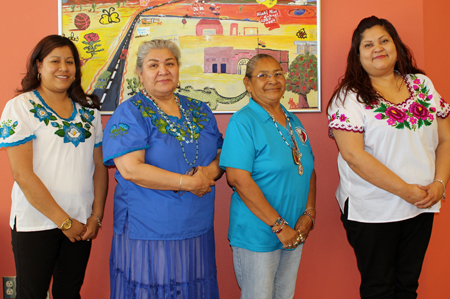 The Dr. Fernando Escalante Library has been selected as the 2017 Pascua Yaqui Tribe First Things First Champion for Young Children.
The award is given to local champions who actively volunteer their time to raise public awareness of the importance of early childhood development and health. Champions spend a significant amount of time volunteering with FTF and building public awareness about the importance of early childhood issues.
The Dr. Fernando Escalante Library engaged in awareness-raising efforts such as:
Providing workshops in the community to educate young mothers how to continue follow the teaching of the tribe's grandmothers and elders with traditional Yaqui prenatal care. This is done in partnership with the community wide baby showers hosted by the tribal WIC Program. The library constantly collaborates with other programs and departments in the community. For example, the Head Start had a family literacy night and the library staff created a fish game where the children had to match the fish to the color home, but it was in the Hiaki language.
Collaborating with other education departments to host Education Family Night every other month, where there are games, activities, giveaways, and food and book distribution. The library also has other programs bring the children that participate in their programs to tour the library, sign up for library cards and give them free books to read and take home.
Providing board books and FTF Parenting Kits to parents when they bring their young children into the library.
Hosting a Hiak Nooki Yaqui Preschool Workshop to show parents how to introduce their young children to the Yaqui language through basic commands, such "brush your teeth" "turn off/on the lights" "what is my name?"
Encouraging young children to learn the Yaqui language by airing Yaqui language preschool Songs on the tribal radio and recorded a preschool student singing "Twinkle, Twinkle Little Star."
Helping to make the Ili Uusim Taewai/Day of the Children a continuous tribal national holiday to be celebrated every April 30. Library officials started the event in 2012 and submitted a resolution to the Pascua Yaqui Tribal Council, which passed it unanimously on April 19, 2017. The day gives children a special day devoted just for them. Parents and family members can participate by making them a special dish, treat or even just a nice hug to show that they are loved, special and important.
Library supervisor Amalia Reyes and library clerk Andrea Romero answered the following questions.
Question: Why do you feel early childhood development and health is so important?
Answer: In our tribal history, our people have suffered much due to the wars against our people. We survived this immense hardship and it is always remembered. We don't want this to ever happen with our children. Deep in our hearts, we cherish our children. We love them and raise them up because in our belief. We all work together as if we have one heart. We see the need for them to develop in healthy environments, with good instruction to make them strong and capable. Our tribe is nothing without our strong children, who will carry our heritage to the future and beyond.
Q: What caused you to get involved in efforts to increase public awareness in early childhood issues?
A: We see our youth on a daily basis and we know of our tribal ways in caring for our children and understand the importance of their health and well-being. Because of what we have learned through First Things First, that birth to 5 are most important years for their foundational development skill to be built, we focused on the preschool-aged children and brought about awareness for early childhood to each parent that walked into our tribal library.
Q: Why do you feel building awareness in early childhood and developmental health is so important for families and communities?
A: We all need that special education about our children's development, whether we are new parents or elders in our tribal community. Learning new information does not go to the wind. It stays in our minds and is brought up when we are presented children who need our attention. In our Yaqui community, that is everyone's role, to help teach our children to become educated in the ways of our cultural heritage and mainstream education, so that they thrive, overcome barriers and become college graduates. In this way we honor our Ancestors for their sacrifices during the times of war.
Q: How have you seen awareness for the early years change in your community?
A: A lot or our tribal parents are aware of First Things First objectives and children's voices are heard on our tribal radio singing preschool songs. Parents bring in their children to the preschool area to share board books with them and more emphasis is being made to include preschool activities in our tribal departmental programs. When we do programming, we always focus on the little ones and encourage others to do the same.
Q: How do you suggest other people in your community get involved?
A: Take time to learn about early childhood development and learn what steps to take to have a healthy baby and share that knowledge to others. Implement that education in your programs, your home, and your church. Understand that children are to be honored, like it is said amongst our people. Talk about First Things First and all the information that is shared via their website and on Facebook.