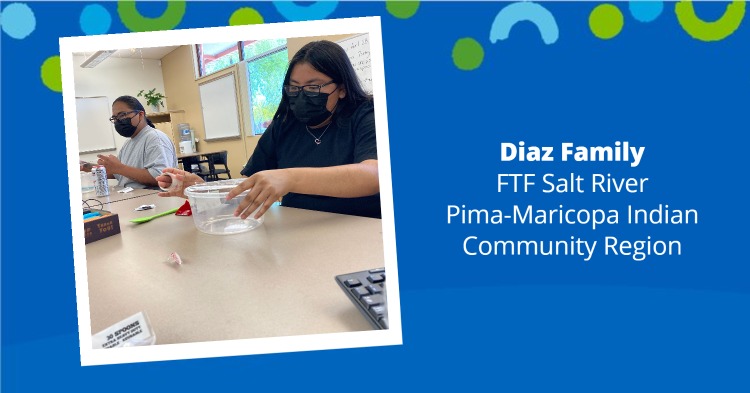 As high school seniors, Darcie Silversmith and Selby Leonard not only juggle academics, but they're also raising a toddler. Every day between classes, the teens attend a school program that provides young moms and dads insight into the intricacies of parenthood.
The Promoting Nurturing Parenting program brings together Silversmith, Leonard and other student parents at Salt River Academy of Accelerated Learning in Scottsdale for discussion and mutual support. In a typical week, the young parents focus on their academic studies, but they also take time to talk freely about parenting issues, said Margaret Lehn, a parent educator who teaches the classes.
The First Things First Salt River Pima-Maricopa Indian Community Regional Partnership Council funds the program to provide family support given the number of children living in poverty and the high percentage of children living with a mother 19 years of age and younger in the region.
This semester's program includes two eight-week courses, one focused on the importance of healthy food for children and another on the role of music on child development. Students earn high school credit, along with college credit from Scottsdale Community College.
The first course "is really about thinking differently about healthy eating and how healthy eating impacts the brain and early learning development," Lehn said.
Similarly, the music class explores the effect of music and movement on young children and "how music really offers some opportunities for enhancing your environment in a fun and loving way, for making connections with your children using music."
For Silversmith and Leonard, both 18, the courses are providing them with valuable skills on raising their daughter, Addalyn confidently.
"My daughter, she knows how to throw, she knows how to catch," Silversmith said. "I've been teaching her a lot, but it's this class that helped me learn those things so I could teach her."
Since Adalynn already loves music, she responds quickly when her mom plays it to see if the toddler will break out in dance.
"She just does," her mom said, and smiled. "She dances to whatever. It's kind of funny."
Something else Silversmith said she appreciates about the program is being able to connect with other young parents.
"It helps me a lot to know that there are other parents in the class that actually are going through the same thing I'm going through or have been through," she said.
She and Leonard make it a point to engage in activities at home with their daughter that they learn about in class.
"When we were learning to cook, we were doing that with her," Leonard said of Adalynn, who is almost 2. "She would help us with the food and stuff – or she would just sit there and eat it, too."
In Lehn's class, the young parents also take time to meditate, write in journals and learn about child safety. There is also a literacy component that gives students credit for reading to their children at least 20 minutes a day.
The goal is for these nurturing parenting practices to lay the foundation for a healthy parent-child relationship, Lehn said.
Children benefit because they're learning skills from their young parents through shared activities, such as reading.
"And really, more than anything, having that foundation of the secure base so that when they go to school, they're feeling very confident and comfortable to be able to be away from mom or dad for that period of time using the information that they already have, the academic information," she said. "But what's really important is the relationship that they have with their parents."