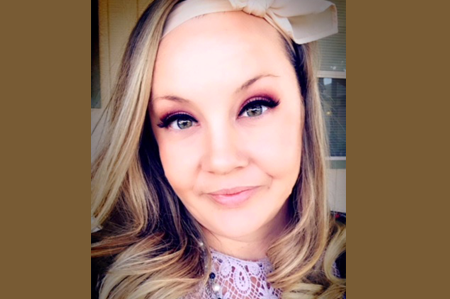 Tara McCluskey has been selected as the 2018 La Paz/Mohave First Things First Champion for Young Children.
The award is given to local champions who actively volunteer their time to raise public awareness of the importance of early childhood development and health. Champions spend a significant amount of time volunteering with FTF and building public awareness about the importance of early childhood issues.
McCluskey engaged in awareness-raising efforts such as:
Encouraging local community and its leaders to understand the importance of supporting education. McCluskey had two of the best writers write a letter to the local state representative and congressman. The rest of the children drew pictures or cut out examples and pasted their needs to the representative. The letter explained specific needs and  asked how the leaders would be improving early childhood programs such as the one they attend. The leaders were also invited to the school.
Inviting local businesses to her school once a month to speak to the children about the community, including the library, a dental office, a vet and a martial arts owner. This demonstrates not only a strong willingness to collaborate with community partners, but also serves an opportunity for the community to support its youngest members.
We recently caught up with McClukskey, who is a preschool teacher at the Gingerbread House in Kingman.
Question: Why do you feel early childhood development and health is so important?
Answer:  I feel early childhood development and health are important because they provide a pathway to be successful in education and in life. As early childhood educators, we are a child's first impression of a teacher.  I want my students to have an environment where they feel safe, have fun and thrive. I want my students to yearn for new and exciting learning experiences. I want them to feel as passionate about school as I am teaching them. While they are in my classroom I want them to graduate to kindergarten with a lasting impression that a teacher is someone they can trust. A teacher is someone they can turn to when needed. The greatest joy in life is when you see their faces light up with pride as they learn and grasp something I have taught them. I love when they are so excited about what they have learned that they can't wait to share it with someone. I believe the best way to achieve this is through hands-on lessons and interactions that are both fun and engaging for the children.
Question: How do you suggest other people in your community get involved?
Answer:  People can help in this teaching process by engaging the children when they tour the community on field-trips. They are letting the children experience the community around them outside from their school and home. It teaches them the different aspects of how a community functions and works together. I believe putting together a list of different workers in the community and the ways they can teach young children is key. Like police and their dogs, firefighters with their trucks and dentist with their tools. These in experiences show the children a glimpse of what they might want to be when they grow up and a goal to work for.