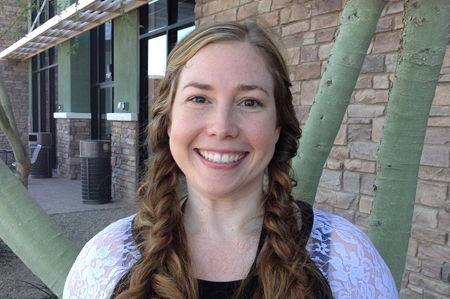 Stacie Kopa has been selected as the 2017 Southwest Maricopa First Things First Champion for Young Children.
The award is given to local champions who actively volunteer their time to raise public awareness of the importance of early childhood development and health. Champions spend a significant amount of time volunteering with FTF and building public awareness about the importance of early childhood issues.
Stacie Kopa engaged in awareness-raising efforts such as:
Leading weekly literacy programs for children ages birth to 5 and their caregivers.
Hosting annual sensory play events for young kids to get their hands dirty and play out loud.
Facilitating the local Arizona Chapter of Storytime Underground, a professional development group for librarians.
Developing a kindergarten readiness program for families with many local partners including FTF.
We recently caught up with Kopa, is a Buckeye library assistant in children's programming.
Question: Why do you feel early childhood development and health is so important?
Answer: Free early childhood development information, resources and activities are available to families and can help set children up for success while also encouraging their love of learning. It is important to have a safe public place to seek out quality resources and have access to information. The library is naturally one of those places. Being the facilitator of children's programming with the Buckeye Public Library System allows me to promote awareness by sharing information in a setting that is free of charge and easily available to all families and child care groups.
Q: What caused you to get involved in efforts to increase public awareness in early childhood issues?
A: I have been an advocate of early literacy for many years. This advocacy only increased when I became a parent. Working in a public library has been a fantastic opportunity not only to learn more about early childhood development, but to also be a part of the promotion/support of early learning skills. After briefly working at a K-8 school and seeing children in a school setting, I realized there is much that can be done in those crucial early years before children reach school age.
Q: Why do you feel building awareness in early childhood and developmental health is so important for families and communities?
A: Parents and caregivers naturally want to build and nurture a strong foundation for their children, sometimes it is just a matter of finding the best ways to do so. Every child deserves the opportunity to succeed. By working on awareness of early childhood development and health with families and educators of children ages birth to 5, we as a community have an opportunity to help all of our children build a strong foundation before they reach school age.
Q: How have you seen awareness for the early years change in your community?
A: Being the facilitator of children's programming has allowed me the opportunity to meet many amazing families. It has been awe-inspiring to meet with so many caregivers that are seeking out ways to encourage their children to engage in activities that foster and support early learning skills. I have not been in my position with the Buckeye Public Library System long enough to make a statement on change seen in this community. I have noticed that the caregiver's quest for more knowledge and interaction only increases as they have access to more information. The more people know, the more they want to learn and share with others. We are also privileged in this particular community to have many dedicated professionals and educators that are driven to provide quality services. I am excited about what can happen when these factors successfully come together.
Q: How do you suggest other people in your community get involved?
A: It is important to learn about the abundant resources that our community has to offer. First Things First has many wonderful programs and resources available, knowing what they have available and sharing that information is a great start. Taking time to attend events at local libraries and family resource centers is also helpful. Most importantly, be a lifelong learner yourself! Be open to learning new things, research quality resources and read as often as you can.