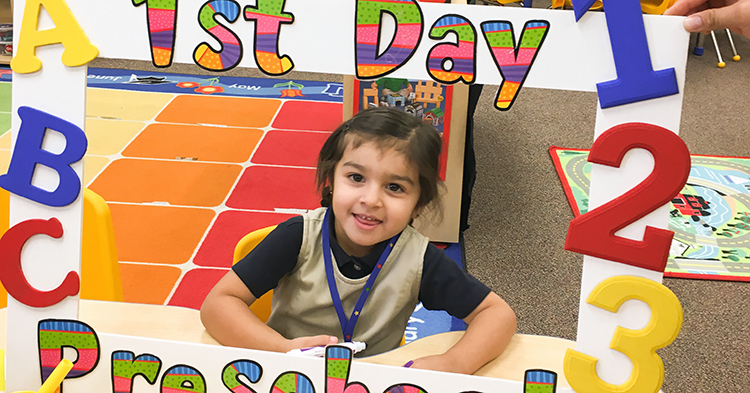 Some might think that as the daughter of a school assistant principal, 5-year-old Ruby Lou Granillo would be all set when it came to being ready for kindergarten.
But Sam Granillo, an assistant principal at Calabasas School in Rio Rico, and his wife knew that a high-quality preschool experience would help Ruby Lou with more than academics. It would help her social and emotional development, too.
"Preschool not only set her up academically, but it set a strong foundation for socializing, which is so important at that age," Granillo said.
The parents recognized the high-quality environment in their daughter's preschool right away, starting with how the teachers interacted with the children.
"The teachers of course were friendly, but they took upon themselves to crouch down to the eye level of the kids," Granillo said. "They began building relationships and trust immediately."
It's those type of positive interactions with the adults in their lives, such as preschool teachers, that help young children make sense of the world. Everything they see and experience shapes them.
The Calabasas preschool, where Ruby Lou attended, participates in Quality First, First Things First's signature program, which works with child care providers and preschools throughout Arizona to improve the quality of early learning for children birth to age 5.
At Calabasas, during the lunch hour, the preschoolers practiced their socializing skills through a family style lunch, where they served each other and talked about dining manners.
"Even the conversation at our dinner table was reinforced at school," Granillo said.
The program also focuses on the individual child.
"Every child has their own portfolio," Granillo said. "We knew exactly what she was learning, when and if she mastered the skill."
Ruby Lou, who turned 5 in July, finished her final year of preschool strong and is ready to start kindergarten, Granillo said. "
She's in love with school and she's got it," her father said. "She says she wants to be a teacher. That's based on her preschool experience."