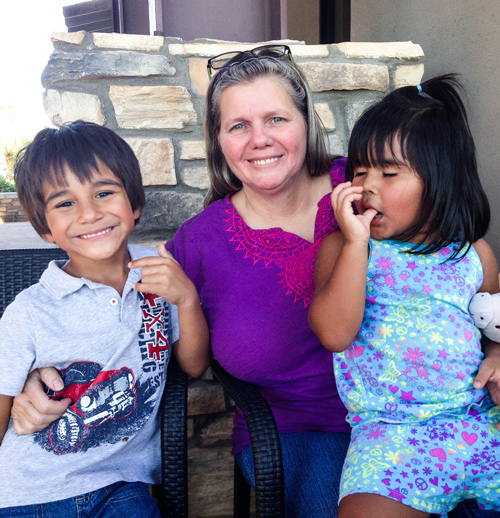 For Scott and Pat Hall of Gilbert, their adopted son Ethan was a miracle. Born seven weeks early and weighing only 4 pounds, the medical crises with the baby never seemed to stop. Around four weeks old, Ethan was rushed to the hospital because he stopped breathing. Later, doctors found blood spots on his brain and diagnosed him with a rare disease called tuberous sclerosis, where non-cancerous tumors form all over the body.
Early on, Pat noticed that Ethan struggled to sit up and had difficulty holding down food. As Ethan approached his first birthday, he still couldn't stand or crawl, couldn't swallow and wasn't sleeping through the night.
Pat turned to Parents as Teachers program, which provides voluntary coaching and in-home support for families. The program is housed under Child Crisis Arizona and funded by the First Things First Southeast Maricopa region.
"It is a godsend," said Pat, as she recalled the techniques she learned to use with Ethan to help him develop his motor skills. Patti Watts, the family's parent educator, provided coaching, parenting information and connections to other community resources.
Once a week, Watts would visit the family, work on an activity and leave additional ones for the family to do together. For example, when Ethan turned 2, the focus was on Ethan's hand coordination. Ethan struggled to pick up objects, especially small ones, so Watts showed Pat how putting small objects in an ice cube tray, encouraged the boy to use his fingers to get the object out. They also had Ethan stack blocks, which was initially challenging because he had trouble gripping the blocks. Through repetition and practice, Ethan was able to pick up small objects and stack wooden blocks.
As Ethan grew into his toddler years, they started working on his literacy. Watts assessed Ethan's progress by using the blocks to see if he could sort them by colors, shapes and arrange them into words. Pat remembers another activity where Watts brought papers containing bubble-words and crayons. They then said words out loud and instructed Ethan to find those words and color them in.
Many times, Watts served as a sounding board for the parents when they struggled to understand their son's delays. "We have learned many valuable tips on how to teach my kids," Pat said.
A strong partnership between parents and educator usually results in success for the child, Watts said. Pat was always open to learning new activities and strategies. "In five years, I never had a no-show," Watts said.
Ethan recently started kindergarten and he was ready, Pat said. "Without the program, Ethan would probably be in a special education classroom. The program helped a lot with his language development and motor skills."