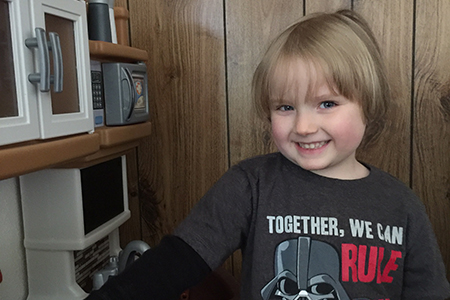 First-time mom Athena Reynolds was looking for a support system.
"I was clueless," Reynolds said, thinking back to when her son Alexander was born. "I have this little human being that depends on me and I knew I needed help."
She found Parents as Teachers, a voluntary home visitation program, funded by First Things First. Reynolds received regular in-home visit from a parent coach who provided parenting information, teaching strategies and connections to other community resources.
"It's an amazing program that teaches you how to teach your child," Reynolds said. "I wasn't sure how he learned. Everything was about me asking, 'Is this normal?' Thankfully I wasn't looked at as this crazy neurotic parent."
Instead, she found in the parent coach what Reynolds described as an extremely knowledgeable older sister, who assured her that she was doing the right thing for her son. The coach provided her with information on how to help her son reach different levels according to his developmental stages.
Reynolds was also able to allow her son to learn tasks that she wasn't expecting to teach him so young, such as, cutting soft foods with a plastic knife.
"Now he's 4 and can serve himself and cut most of his food himself. It's an amazing amount of independence that he has that I didn't know was possible," she said.
About three months before Alexander was to turn 2, the toddler's pediatrician told Reynolds that he should have around 50 words in his vocabulary. Alexander was speaking about 25 words.
"How do I get him to talk more?" Reynolds asked her parent coach. "I was worried. He wouldn't say a lot. He was a quiet reserved little dude."
The coach reassured her that her constant talking to him was one of the best ways to build his vocabulary. She also encouraged the mother to ask the boy simple questions. For example, "That's the garbage truck outside. Can you hear the truck?"
Sure enough, within those few months before two years old, Alexander's vocabulary more than doubled. "All of a sudden, he was a very talkative guy," Reynolds said. "Now at 4 and half, his vocabulary is incredible."
Today, Reynolds and her husband are thinking about what kindergarten to send Alexander to in the fall.