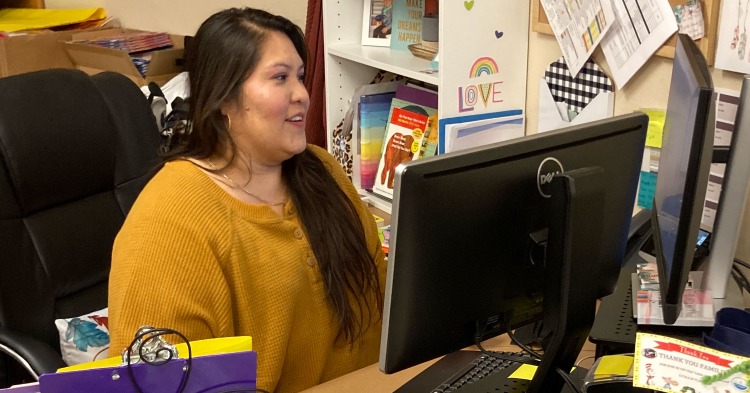 Maria Humo, a certified home care provider, found herself with a full house when she added the title of foster mom to her list of expertise. 
Over the past year, Humo has taken the responsibility of fostering her two grandchildren, Samuel and Aliana, along with providing care for the other young children of the Pascua Yaqui Tribe. 
Despite her 20+ years of experience of working with young children, Humo felt challenged with the specific care her grandson needed. 
"Samuel, who is over the age of two, has already had a challenging childhood," the grandmother said. "Due to prenatal drug exposure, Samuel experienced some developmental delays. He's nonverbal."
"I've had experience with children with developmental delays before, but this is the first time I've been a parent to a child with special needs. He (Samuel) didn't know how to communicate. He would get so frustrated, he didn't know how to express his emotions outside of getting violent."
The Tribe provided Humo with early screening resources, where she was able to recognize the challenges facing Samuel.
"The Tribe has done so much for us and provides us with the support we need," she said. 
After the boy's first screening, Humo was connected to the Parenting Outreach and Awareness workshops hosted at the Dr. Fernando Escalante Tribal Library. The First Things First Pascua Yaqui Tribe Regional Partnership Council funds the workshops, which promote the importance of early childhood development and literacy with parents and caregivers through interactive activities. 
Humo recalled her first workshop, Paint Night, which provided all the supplies including paint, brushes and age-appropriate books for the children to take home. 
"I wasn't sure what to expect," Humo said. "I thought this would just be a fun activity to do with the kids."
It wasn't until Humo completed the workshop that she realized how beneficial it was not only to her grandchildren, but for her, as well. 
"These classes helped me better understand how to support Samuel in any activity, by being there to help process those big feelings," she said. "These activities keep his mind busy and focused by allowing him to use his hands. He's very physical and expresses himself that way." 
Humo was surprised to see Samuel so engaged and attentive for the entire duration of the workshop. 
"He didn't have a single outburst the entire time," she said. 
Today, Humo is able to reflect on the stark contrast between Samuel's communication style prior to attending the library programs. 
"We use sign language now," she said. "He is finally able to start expressing himself. I can see a difference in him."