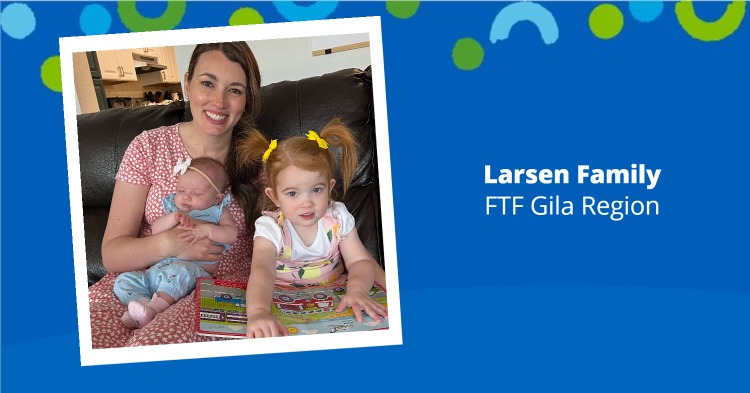 Carolyn Larsen and her 2-year-old daughter, Adelaide, check their mailbox just about every day.
When a children's book addressed to the toddler finally arrives, the girl bursts with excitement.
"She has her own little library in our living room," Larsen said. "There's a box full of all the books, and she has her little special area."
Adelaide's books come from the Dolly Parton's Imagination Library, which seeks to inspire a love of reading by providing free books to children from birth to age 5 with support from local community partners. The First Things First Gila Regional Partnership Council funds the program through the Gila County Library District.
Larsen, whose family lives in Globe, had heard about the program before she had children, so she enrolled her daughter in it soon after she was born. And this year, Adelaide's little sister, Scottie, followed her footsteps and recently became a member of the Imagination Library at just 4 weeks old.
"I'm hoping that they are able to become avid readers," the girls' mother said. "That will help them in so many aspects of their lives."
With each book Adelaide gets, Larsen can see that her daughter's joy of reading grows. "She will go and sit in a corner – even when she turned one – she would go and sit in a corner and grab the books that we got from the Imagination Library and just sit and read them by herself," she said.
Nowadays, Adelaide also reads books in her own toddler language to her mom.
"She actually has a little bit of a speech delay, so the books are really great for us because they're age appropriate, and we can work on some of her speech needs to help her," said Carolyn Larsen.
Scientific research has shown that the experiences of children between birth and age 5, when the brain develops rapidly, will have a lasting impact on their lives. It is during those early years that the Imagination Library encourages children to read 1,000 books before they enter kindergarten, which usually happens at
5 years old.
Children who participate in the program can get picture frames and stickers to place on them at their local library. They also get a sheet where they can list up to 100 books that they've read. With a little help from her mom, Adelaide has finished reading 300 books.
"The goal is to get like 10 stickers, and then you will have read 1,000 books before kindergarten," Larsen said. "The stickers go all around the picture frame, and then you can put your child's picture in it when they've completed it."
Like her big sister's, Scottie's first book to arrive in the mail will be "The Little Engine That Could." Then a variety of titles will arrive subsequently, one each month. Larsen has only praise for the program.
"It's so great, especially for the rural communities that don't have access to a lot of resources," she said. "And so, I feel very lucky to be a part of it and to have access to it."