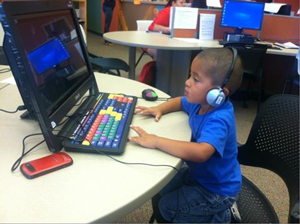 ​​​"TWO! That's my number, that's how old I am," said 2 year old Joaquin, as his eyes lit up when he saw the number two flash across the screen of the Early Literacy Station, a children's computer that promotes school readiness and a love of learning.
"Many parents and grandparents bring in their young children and they utilize the computers," said Amalia Reyes, the supervisor of the Dr. Fernando Escalante Community Library & Resource Center in the First Things First Pascua Yaqui Tribe region in southern Arizona. "They're starting to realize that the computers are learning tools that will help their children."
The three literacy stations, which sit in the center of the library, were purchased with a grant from First Things First. The computers are for use by young children exclusively and come preloaded with literacy programs, designed to promote pre-literacy skills in the youngest of children. Parents must sit with their child to guide the learning.
Families like Joaquin's are constantly visiting the library, finding ways to make learning fun, said Reyes, who currently serves as the Vice-Chair of the First Things First Pascua Yaqui Tribe Regional Partnership Council.
The Council strives to find various ways to reach families with young children, Reyes said. By partnering with the tribal library they hope to empower parents to be their child's first teacher. The children use technology that is safe, age appropriate and educational. It helps community members to bridge education and technology so that children will get an early start in education, Reyes explained.
In addition, the library offers a Parent Education Community Based Training with a hands-on, engaging story hour, called the Hummingbird Huddle.
"Joaquin is learning so much," said Jessica Flores, the child's mother. "He's learning his numbers, colors and ABCs. My 4 year old daughter, Oriana, is doing great in school, too. She gets 100% on all her work."
The proud mom realizes the importance of reading and helping her children learn. The family comes into the library every day to read and work on the computer. They also look forward to the Hummingbird Huddle story time.
From his stroller, 1 year old Antonio intently watched his big brother Joaquin on the computer. Then mom said, "It's time to go." Without hesitation, Joaquin logged off the computer, wrapped the cord around the headphones and walked to the front desk. With his big bright eyes, barely visible over the counter, he placed the headphones in the cubby and said, "Thank you."