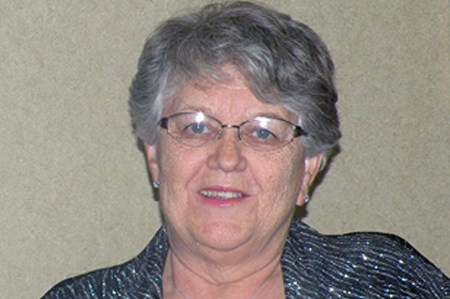 Claude Endfield has been selected as 2017 First Things First White Mountain Apache Tribe Region Champion for Young Children.
The award is given to local champions who actively volunteer their time to raise public awareness of the importance of early childhood development and health. Champions spend a significant amount of time volunteering with FTF and building public awareness about the importance of early childhood issues.
Endfield engaged in awareness-raising efforts such as:
Sharing early childhood messages with members of the community.
Attending training on early childhood messaging.
Providing early childhood messaging training to child care providers and students.
Coordinated with the Early Childhood Workforce Registry Coordinator to set-up "Registry Days" for interested students and early childhood professionals to learn more about the registry, available scholarships and application support across the region.
We recently caught up with Endfield, who is retired from her professional work in early childhood education, but is an active community volunteer.
Question: Why do you feel early childhood development and health is so important?
Answer: It should allow children to have successful experiences. The first years are the most important of a person's brain development – 90% by 5 – builds a foundation that is so important to later life. I got involved in early childhood development as a parent and I learned so much through the Head Start experience, it really shaped my philosophy on that. I think every child deserves a quality early childhood experience.
Q: What caused you to get involved in efforts to increase public awareness in early childhood issues?
A: I was fortunate to hear Nadine Basha speak while I was taking a graduate class at Arizona State University. I was part of a group in Apache and Navajo counties that had monthly meetings focused on increasing early childhood opportunities and resources in our areas.
Q: Why do you feel building awareness in early childhood and developmental health is so important for families and communities?
A: First, I don't believe all parents understand that they are their child's first and best teacher. So helping them understand their role in their child's development is crucial to building strong families and communities. When I first became a parent, I thought you sent your kids to school to learn. I didn't realize what my role was. When my second child was in Head Start, was when I first began to understand what an impact parents and families have.
Q: How have you seen awareness for the early years change in your community?
A: I think that there is a greater understanding of the role and importance of parenting and awareness of the benefits of early brain development. There is a lot more awareness about the early years building a strong foundation and the research into early learning and development. There is also great support for those working in the early years to participate in professional development and including developmentally appropriate practices.
Also, I think among early educators, there is more understand of the importance of play in children's development. I see a bridge forming between learning environments, from preschool to kindergarten, and beyond.
Q: How do you suggest other people in your community get involved?
A: By actively supporting education at all levels, becoming aware of what is happening in their community and looking for ways on how they can support young children. In some communities it might be volunteering your time by going in and reading a story or making a craft. For people who have time to give and are looking for something to do, our schools always need help.