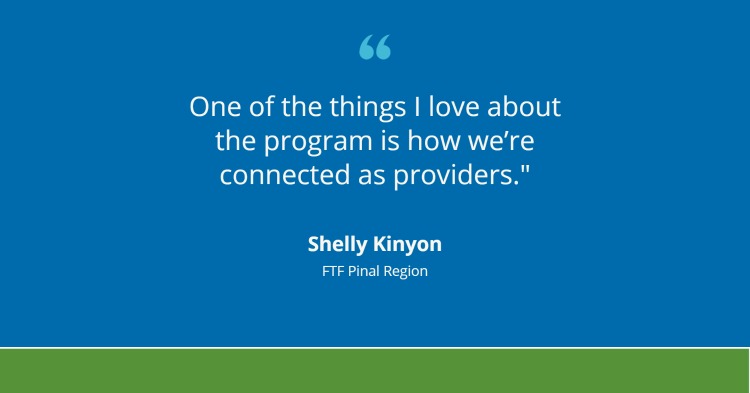 Shelly Kinyon knew she still had a lot of love to give.
The mother of 10, self-proclaims that she loves kids, especially preschool-aged children. A little over a decade ago, she was a foster mom and at the tail end of her years of fostering, she considered caring for children in her home again. Off and on she had done some child care in her home, helping out family and friends, but she never thought of it as a career.
"During fostering you make connections with other foster parents," Kinyon said. One of them introduced the Casa Grande mother to the Family, Friend and Neighbor (FFN) program. The First Things First Pinal Regional Council funds the program to support caregivers in helping the young children in their care to learn and grow.
The program is run through the United Way of Pinal County, which provides in-home child care providers, which can also include foster and adoptive parents, with no-cost assistance to help ensure children birth to age 5 get access to quality education outside of a licensed child care setting.
"I felt so good as a foster parent, I knew I could do this in my home," Kinyon said. She started with two children, who were both a year and a half. "They were both part-time and my daughter was 2 at the time."
Shelly's Sunflowers Child Care was born, with Kinyon's intentions of helping families through being someone they could trust with their children.
The Family, Friend and Neighbor program is free and includes classes or group meetings with other caregivers that are led by trained professionals. Caregivers learn how to better support the health, development and learning of the young children in their care through health and safety practices, educational activities and understanding more about child development.
"One of the things I love about the program is how we're connected as providers," Kinyon said.
"Whatever made us a provider, whether a grandparent, family, community provider, we're connected. There's a Facebook page where we can ask questions or we can email Liz or Lindsay or whomever. You don't feel like you're a bother. They'll give you a strategy for whatever the challenge is."
Sometimes it's about how to talk to parents, taking on new clients or helping each other when someone is having a bad day.
"This profession can be lonely and isolating, it's nice when we know somebody is there," Kinyon said. "One thing Lindsey (from United Way) always does for me is she gives me the tools I need. She asks, 'What can you do? Where does the problem start?' Then she gives me strategies to help."
Ultimately, if the caregiver benefits, so do the children in their care.
"The kids are getting the knowledge," Kinyon said. "Many times the things we're learning about helps the kids with their creativity. It helps us help them feel free to express themselves."
For example, in her playroom, there's room for water play and messy play.
"Yeah we're going to have shaving cream. Yeah, we're going to get wet," Kinyon said. "The kids get dirty. But being in FFN has helped me in that because they're explaining the research to back it up and show how it helps kids learn."