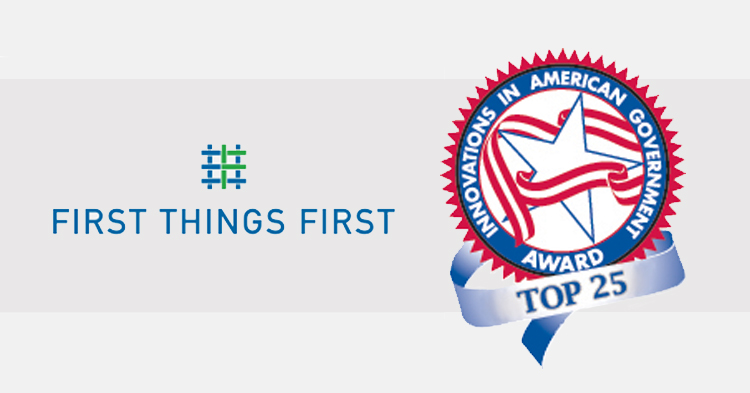 PHOENIX – May 2, 2017 – Today, First Things First was announced as a Top 25 program in this year's Innovations in American Government Awards competition by the Ash Center for Democratic Governance and Innovation at the John F. Kennedy School of Government, Harvard University. As a Top 25 program, First Things First is representing the top 2% of all initial applications for the Innovations Award.
Created by Arizona voters, First Things First works to expand and enhance early childhood education, health and parenting programs that ensure more children arrive at kindergarten prepared to be successful. Through a unique tiered governance structure, First Things First has engaged hundreds of volunteers to serve on its Board and regional councils and make decisions about how early childhood funds are spent. To date, those volunteers have donated more than 288,000 hours of their expertise, insight and commitment in service to kids birth to 5 across Arizona.
Through its innovative structure, First Things First decisions reflect the perspectives of the array of Arizonans who have a stake in ensuring children arrive at kindergarten prepared to be successful, including parents, tribal representatives, educators, health professionals, and leaders in business, philanthropy and faith. The structure balances statewide impact with local flexibility, with an emphasis on transparency and accountability. The Board is responsible for ensuring that strategies funded by First Things First improve outcomes for young children. The regional councils are responsible for ensuring that those strategies meet local needs and address community nuances, such as cultural considerations and service to families in rural areas.
Stephen Goldsmith, director of the Innovations in Government program at the Ash Center, called the finalist programs "the vanguard of creative, solution-oriented governing, demonstrating that the drive to make government work better and do more comes from all levels and jurisdictions of every size. These programs are focused on an impressive range of areas and some of the country's most pressing social concerns, including the opioid epidemic, government efficiency and efficacy, environmental conservation, homelessness, and the school and workforce readiness of our citizens."
The Innovations in American Government Awards was created by the Ford Foundation in 1985 in response to widespread pessimism and distrust in government's effectiveness. Since its inception, over 500 government innovations across all jurisdiction levels have been recognized and have collectively received more than $22 million in grants to support dissemination efforts. Such models of good governance also inform research and academic study around key policy areas both at Harvard Kennedy School and academic institutions worldwide. Past winners have served as the basis of case studies taught in more than 450 Harvard courses and over 2,250 courses worldwide.
FTF Chief Executive Officer Sam Leyvas said he hopes other jurisdictions can learn from FTF's unique governance structure.
"First Things First works because it engages citizens from diverse walks of life in studying the needs of children and collectively setting priorities for their community," Leyvas said. "It's proof that citizen government can work and that it can yield amazing results for children, for families and for Arizona."
For more information, contact:
Daniel Harsha
Associate Director for Communications, Ash Center
617-495-4347
Liz Barker Alvarez
Chief Policy Advisor, First Things First
602.771.5063 lbarker@nullazftf.gov
About the Ash Center for Democratic Governance and Innovation
The Ash Center for Democratic Governance and Innovation advances excellence in governance and strengthens democratic institutions worldwide. Through its research, education, international programs, and government innovations awards, the Center fosters creative and effective government problem solving and serves as a catalyst for addressing many of the most pressing needs of the world's citizens. For more information, visit www.ash.harvard.edu.
###
About First Things First – First Things First is a voter-created, statewide organization that funds early education and health programs to help kids be successful once they enter kindergarten. Decisions about how those funds are spent are made by local councils staffed by community volunteers. To learn more, please visit firstthingsfirst.org.