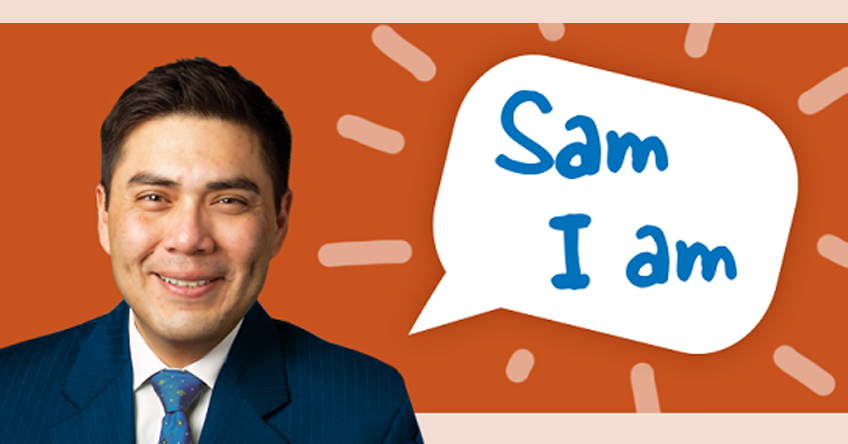 PHOENIX – (May 1, 2014) On Monday, the First Things First Board appointed Sam Leyvas as the organization's Chief Executive Officer, overseeing statewide efforts to enhance and expand services for children in the critical early years of life.
Leyvas had been serving in an interim capacity since July 2013, when Rhian Evans Allvin left to become Executive Director of the National Association for the Education of Young Children.
FTF Board Chair Steven W. Lynn said over the past 10 months, Leyvas has proven himself to be the right fit for the job.
"We conducted a national search, and had some very impressive candidates," Lynn said. "But, in the end, we felt that Sam had the combination of strengths necessary to move First Things First forward: extensive knowledge of early childhood policy; established relationships with early childhood stakeholders and policymakers across Arizona; and, the ability to bring diverse groups to consensus on the need to invest in young children."
First Things First was created by Arizona voters to enhance or expand education and health programs that help children birth to 5 years old arrive at kindergarten prepared to succeed. Over the past 5 years, the organization – through its volunteer regional councils statewide – has invested in strategies that have strengthened families; helped thousands of children access early learning programs while their parents work; and, expanded preventative health for infants, toddlers and preschoolers.
Prior to stepping in as interim CEO, Leyvas served as FTF's Vice President for External Affairs, where he was responsible for strategic planning and oversight of FTF's efforts to engage the public in the critical work of early childhood, including government affairs, community outreach, media relations, and advertising. In this role, Leyvas developed and maintained relationships on behalf of FTF with elected officials at the federal, state and local levels and was responsible for policy recommendations related to early childhood development and health. Prior to joining FTF, Leyvas – who holds an MBA from the University of Arizona's Eller College of Management – held various executive positions representing industry groups on legislative and regulatory issues, including the National Association of Home Builders.
Marilee Dal Pra, Vice President of Programs at Virginia G. Piper Charitable Trust and a former FTF regional council member, said Leyvas' appointment is excellent news for FTF and Arizona.
"Sam is an ideal leader for First Things First—he has tremendous ability to mobilize diverse communities around efforts that strengthen families and support young children," said Dal Pra.
Leyvas said he appreciates the support from early childhood stakeholders and the broader community. Both will be crucial in future efforts to promote school readiness.
"Over the past few years, First Things First has distinguished itself as an effective partner in Arizona's early childhood system, funding programs that are enhancing school readiness for thousands of children statewide and building public awareness of the importance of the first five years of life to future success," Leyvas said. "In partnership with our regional councils statewide, I look forward to having FTF take an even greater leadership role in engaging those outside of early childhood in our work and in building a sense of shared responsibility for ensuring that kids arrive at kindergarten prepared to be successful."
###
About First Things First – First Things First is a voter-created, statewide organization that funds early education and health programs to help kids be successful once they enter kindergarten. Decisions about how those funds are spent are made by local councils staffed by community volunteers. To learn more, please visit firstthingsfirst.org.