As your child grows, she will want to feed herself. Offer healthy foods for meals and snacks. Let your child decide how much to eat. Over time, your child will learn to enjoy many new foods and learn good eating habits.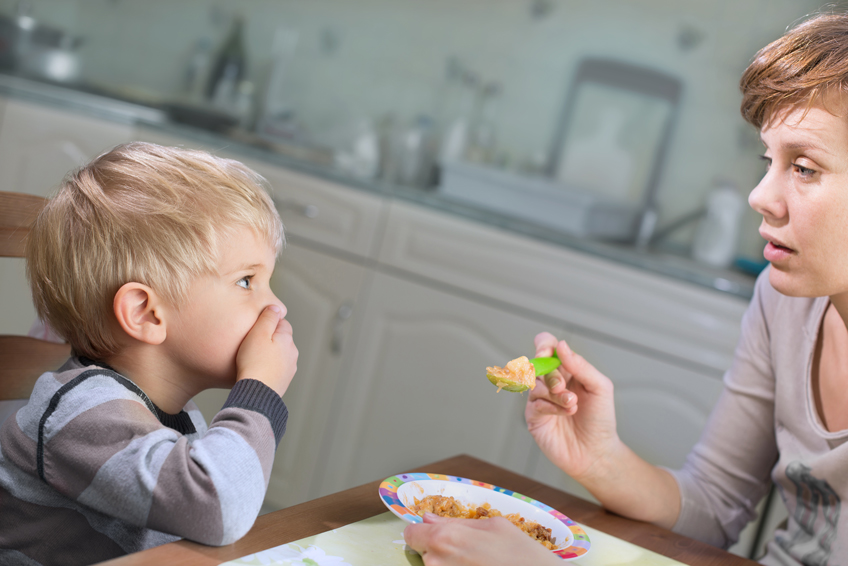 Children Can Be Picky Eaters
Set a good example. Your children will copy what and how you eat.
You may need to serve a new food many times before your toddler will eat it.
Offer a new food along with ones that she already likes.
Give fun names to foods, like "little trees" for broccoli.
---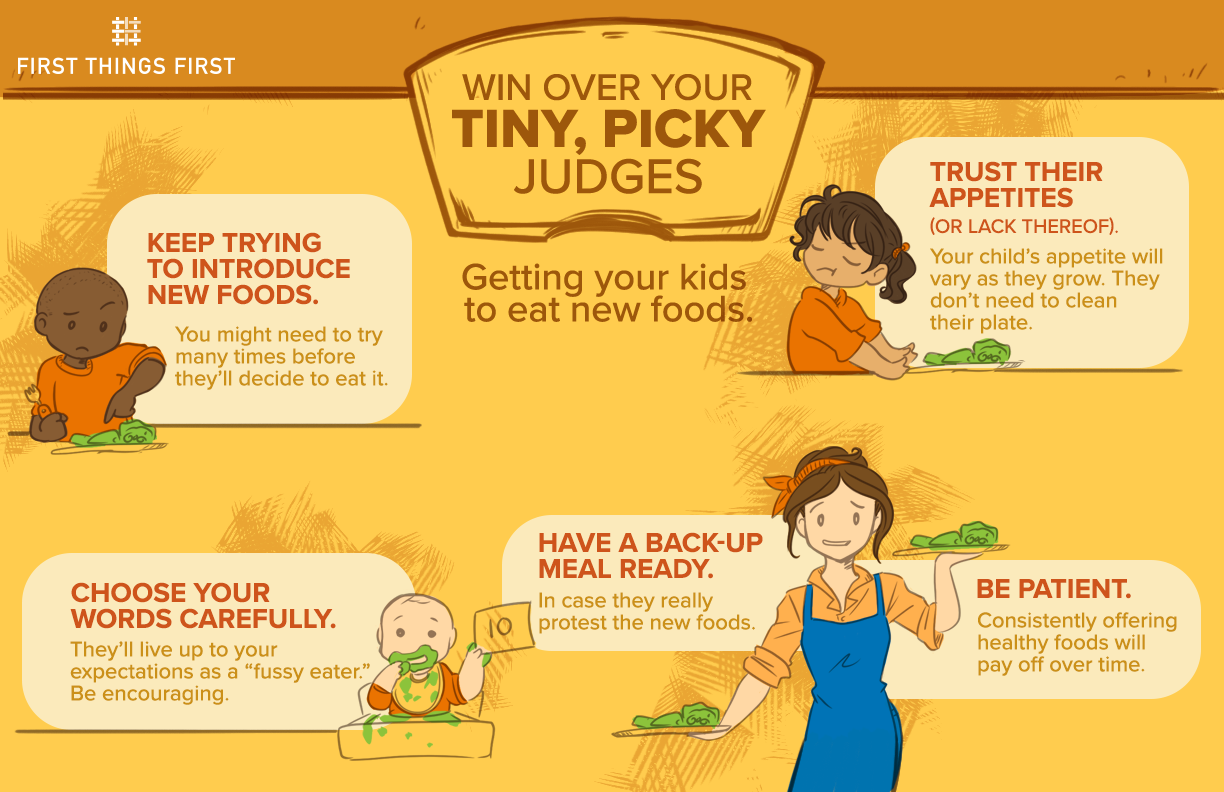 ---
How Much Food Does Your Toddler Need?
Encourage your toddler to eat, but do not force him. He may eat a lot one day and little the next. Give your child at least 3 meals and 1 or 2 snacks a day. Serve small amounts. Let him have more if he is still hungry. Studies show that children usually eat what they need as long as they are offered healthy choices.
If you think your child is eating too much or too little, do not put him on a diet. Talk to your doctor or a counselor at WIC.
---
THINGS YOU CAN DO
For Healthy Eating
From age 1 to 2, your child needs whole milk to help his brain develop. Limit milk to 2 to 3 cups (16 to 24 ounces) a day.
Over age 2, low-fat milk is healthier. Limit milk to 2 cups (16 ounces) a day.
Serve real fruit instead of juice when you can. Limit juice to ½ cup a day (4 ounces).
Limit high-sugar foods like cookies, candy and sodas. They cause tooth decay, and they can make your child overweight.
Make sure your toddler eats foods high in iron. Many small children have low iron (anemia). There is iron in meat, fish, poultry, beans, leafy green vegetables, whole grains and enriched breads and cereals.
If you need food for your child, contact WIC or Arizona 2-1-1.
To Prevent Choking
Like babies, toddlers can easily choke. Here are some ways to prevent choking:
Have your child sit down to eat.
Watch her while she eats. If she chokes, she cannot make noise to let you know.
Cut food into small pieces. Remove bones, seeds and pits.
Cut grapes and hot dogs into small strips.
Avoid tough foods like large pieces of meat or dried fruit.
Avoid hard foods like raw carrots, nuts and popcorn.
Take a first aid class so you know what to do if your child chokes. Call your local American Red Cross or American Heart Association.
The First Things First Parent Kit was developed in partnership with Health Research for Action/UC Berkeley. © 2018 The Regents of the University of California. Additional video, graphic and other content © 2018 First Things First. All rights reserved.