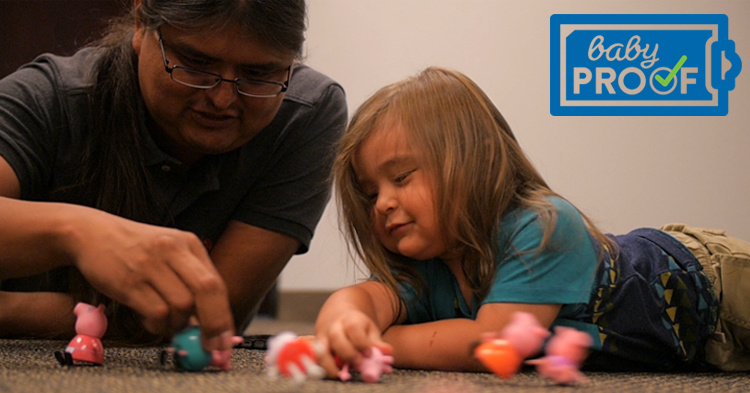 ​For babies, toddlers and preschoolers, almost all of their learning happens through interacting and exploring. And no time does it happen more than playtime.
According to New York University researcher Catherine Tamis-LeMonda, even though play is a natural instinct for all children, adults in their lives need to support play and encourage it.
"Play is not a specific activity, it's an approach to learning, an engaged, fun, curious way of discovering your world," Dr. Tamis-LeMonda, a professor who studies play and learning in babies and young children, told The New York Times. Her research has her observing young children to see how play encourages language development. For example, a baby is learning words and concepts as they play with a ball, and understanding "spatial math concepts when they play with blocks (or pull the books off a shelf)."​
Still, this type play can sometimes be threatened if an adult is distracted and not engaging with a child during playtime. Or if too much teaching is going on, like drilling the child to remember the color of the ball.
"What they need most are interactions, language, give and take… Which can just be another way of saying, somebody to play with."
Pediatrician Dr. Perri Klass writes in The Times article, "Taking Play​time Seriously": "What they most need are interactions, language, give and take, which can just be another way of saying, somebody to play with. No special skills or equipment are needed; every parent learns the virtue of pots and spoons as playthings, and boxes that are more fascinating to babies than the toys they contained."
How can you encourage playtime?
Open your home and schedule time for play. Re-evaluate your child's schedule to make sure there are plenty of opportunities and time for play.
Provide the resources for stimulating play – not necessarily toys, just plenty of different kinds of objects, like cardboard boxes and plastic tubs. Put them where your child can see and reach them. Then, let their creativity take over.
Join in the fun, but let your child take the lead. You may think you look silly, but you are expanding your child's learning.
Encourage your child to use his imagination.
Talk and have conversations together while you play, even if they can't respond with words just yet.​