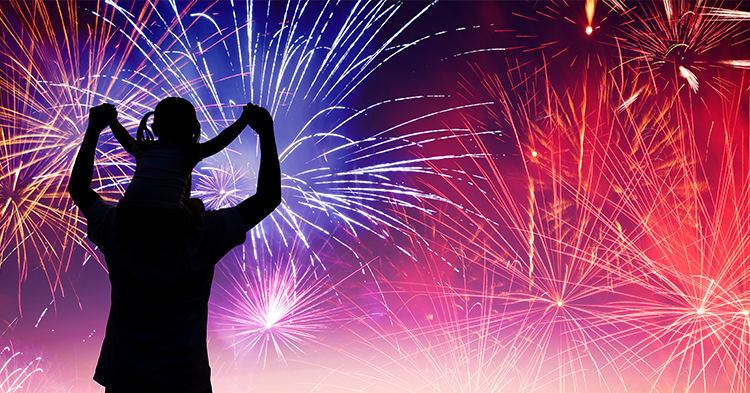 The 4th of July is a day for family and friends to come together and celebrate, but it also brings the possibility of serious danger for young children. So before you fire up the grill, light up a sparkler or settle in to watch a fireworks show, here are some things to keep in mind.
The American Academy of Pediatrics continues to urge families NOT to buy fireworks for their own or their children's use, as thousands of people, most often children and teens, are injured each year while using consumer fireworks.
Fireworks Safety
The American Academy of Pediatrics (AAP) takes a strong position on fireworks safety. AAP urges families to "avoid the use of consumer fireworks and to only enjoy displays of fireworks conducted by trained professionals," such as the many professional, public shows put on by cities, towns, festivals and other venues.
(It's also worth noting that some Arizona cities have canceled their 4th of July show due to concern over fire danger.)
If you do choose to use fireworks at home, or you're attending a party where a neighbor or friend is planning to, the American Red Cross offers these important safety steps:
Never give fireworks to small children.
Always follow the instructions on the packaging.
Keep a supply of water close by as a precaution.
Make sure the person lighting fireworks wears eye protection.
Light only one firework at a time and never attempt to relight "a dud."
Never throw or point a firework toward people, animals, vehicles, structures or flammable materials.
Leave any area immediately where untrained amateurs are using fireworks.
In agreement with the AAP, the Red Cross also states that "the safest way to enjoy fireworks is to attend a public fireworks show put on by professionals."
And as a reminder of the potential danger of some seemingly mild fireworks, according to FEMA, "sparklers alone account for one-quarter of emergency room fireworks injuries."
Summer Safety Basics
Even without fireworks, the 4th of July can be a busy day, so don't forget your usual summer safety basics. Be aware of too much sun exposure, and apply sunscreen regularly. Bringing along water for the whole family is a safe bet in the Arizona heat. And if your child is swimming, take the same precautions as you would any other day during the summer to keep them safe around the water.
Read More