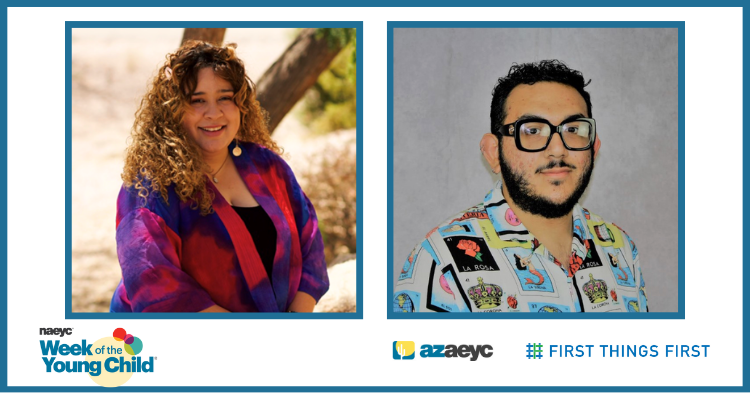 First Things First, Arizona Association for the Education of Young Children (AEYC), Southern Arizona AEYC and other community partners are celebrating the National Association for the Education of Young Children's Week of the Young Child, which begins on April 1.
The week, which runs through April 7 is an annual nationwide celebration that focuses attention on early learning and the educators who support the positive development of young children.
This year, FTF spoke with Elizabeth "Lizzy" Valdez and Jorge Sánchez, newly appointed members-at-large on the governing board of Arizona AEYC. They are helping lead the organization's efforts to advance equity, belonging and justice in early care and education, in collaboration with board members and staff.
Valdez and Sánchez share their experience and advice for how people can get involved this year.
Why is early childhood education so important?
Valdez: Early childhood education plays a crucial role during the important developmental period through age 5. During this time, children are growing as capable, competent learners as they start their journey in life. During this time, a child's brain will develop significantly, before even entering kindergarten. During early childhood, they learn social skills, experience the joy of learning, improve concentration skills, practice becoming good communicators, and grow physically and cognitively. Research continues to show early childhood education has both short- and long-term advantages improving families' quality of life, overall health and well-being.
Sánchez: A child's earliest years are the most important. From infancy to the preschool years, children develop their cognitive, social and emotional skills. These are foundational stages, so educating children has a tremendous impact on the growth of our communities and society, leaving a strong and solid foundation that will contribute to their lifelong learning and well-being. Early childhood educators play a significant role in helping children achieve these developmental milestones, ensuring children strengthen the skills necessary for their success. In addition, research shows that quality early learning programs benefit children in their early years and throughout their lives, such as increasing participation in higher education, building positive pro-social relationships, and contributing to our nation's betterment.
Tell me how you got involved in early childhood education?
Valdez: Being an aunt to my amazing nieces and nephews ignited my passion for teaching. In high school, I decided to take an early childhood class. I had so much fun working with the children that I continued taking early childhood education courses throughout high school and continued the same path in college. As I was pursuing my degree, I participated in advocacy events, such as Early Childhood Day at the Capitol with Arizona AEYC. Attending these events developed my courage to advocate for and help children and families who are bilingual or multilingual. Having these bilingual abilities myself, I have experienced first-hand the benefits of learning in my home language. It has become a passion for me!
Sánchez: The passion to help children grow and recognizing the valuable work of teachers has always been in my heart. Taking my first college class in a small community college enlightened my interest and love for the field. Since that moment, I knew it was important for me to become an early childhood educator. While completing my associate degree, I was working at the child development lab in my community college, so I had many opportunities to engage with children, families, and a network of other educators. I believe children and families deserve access to high-quality early care and education that will help them thrive. Based on my personal story of being born and raised on the Mexico-United States border and attending a public preschool in Mexico, I am driven to continue to build my advocacy skills to get public investments in the field of early childhood education to provide the high-quality education that our communities have the right to and deserve.
How does Arizona AEYC work to support early learning programs?
Valdez: Arizona AEYC is a non-profit early childhood membership organization working to advance a well-supported, well-compensated early care and education (ECE) profession in the Grand Canyon State. We support early learning programs through a variety of statewide and grassroots initiatives!
We facilitate job-embedded professional development and training on topics such as ECE leadership, developmentally appropriate practices and equity.
We manage the state's online shared services platform AZToolkit which is a one-stop website to help Arizona's child care providers save time, maximize funding, and improve quality.
We coordinate child care program accreditation and higher education accreditation.
We support communities to engage in advocacy efforts with state and federal policymakers by sharing their stories and building a collective movement of champions for children and the ECE field.
What are some ways that educators, child care providers, and communities can bring attention to the importance of early education?
Sánchez: The first step is to stay active and informed. It is essential to understand the benefits and challenges the early childhood field faces and review the current research. NAEYC and Arizona AEYC provide a wealth of professional resources, training and professional development and support. Get involved by liking and sharing our posts on social media and attending our grassroots collaborative events like the annual public policy forum to help advance equity in the early childhood profession. Become a member of Arizona AEYC to join the collective movement to advocate on behalf of children, families, and educators. Finally, make your voice heard. Storytelling is powerful, so share your own experiences and knowledge to bring attention to our field and to educate and engage others.
Valdez: Brag about what you do! Early childhood professionals are important. Your work is important, and everyone should know how important your work is! You are caring for and teaching the next generation of scientists, teachers, doctors, astronauts, librarians and active members of communities as a whole. Your voice and your stories matter. Connect with early childhood organizations like the National Association for the Education of Young Children (NAEYC), Arizona AEYC, Southern AZAEYC, and First Things First. Take advantage of the many resources and training opportunities they each offer. Collaborate with community partners to celebrate children every day and especially during the Week of the Young Child. You can do this by sharing documentation of children's learning with families and the community, inviting an elected official to tour your program, and discussing the benefits of quality equitable early learning with others outside of the field.
What message do you hope the public takes away from this week?
Sánchez: Week of the Young Child is a key opportunity for our communities to get involved to elevate the strengths and rights of young children, their families and the educators who do the important work of caring for and teaching them. We hope the public takes away that quality, equitable early care and education is an essential component of vibrant, thriving communities. Arizona's child care helps Arizonans get to work, contributing to a strong, healthy economy. We must support and invest in early care and education as a public good which will help advance equity and success for young learners, their families, and the early childhood workforce across Arizona.
Lizzy Valdez is a lead preschool teacher for Easterseals Blake Foundation working at the Signal Peak Early Learning Center in Coolidge on the campus of Central Arizona College (CAC). The center recently achieved a five-star Quality First rating along with NAEYC accreditation. Valdez is a CAC graduate and holds an Associate of Applied Science in Early Childhood Education. She has been teaching for more than three years providing quality experiences for children and families in both English and Spanish.
Jorge Sánchez was born and raised on the border between Mexicali, Baja California, and El Centro, California. "I had the beauty of experiencing both cultures concurrently and being exposed to different educational pedagogies," he said. Sánchez has worked in the field of early childhood education for more than six years and holds a bachelor's degree in human and family development from Arizona State University. Sánchez is currently pursuing a master's degree. He works as a Child Development Manager for Professional Development at a non-profit organization and at Rio Salado Community College as a community instructor. Sánchez is a certified ACEs trainer through the Arizona Adverse Childhood Experiences Consortium.