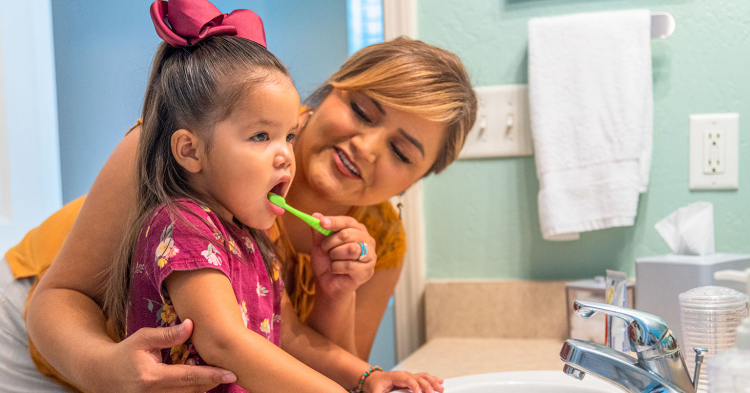 Healthy baby teeth make for happier kids. And they help kids do big things. 
Most parents and caregivers are surprised to learn that caring for children's teeth and gums should start when they're just babies. Though baby teeth fall out after a few years, that doesn't mean they aren't important.
"Healthy baby teeth help young children speak clearly and confidently," said First Things First Senior Director of Children's Health Melissa Affronti. "Painful tooth decay can make it hard to eat healthy foods, like fruits and vegetables. So dental care in the early years helps prevent problems that can impact healthy development."
FTF's latest website, BabyTeethMatter.com, is designed to help parents in Maricopa County learn how to help their babies, toddlers and preschoolers have healthy teeth.  The website is part of a project funded by FTF regions within Maricopa County to increase early oral health awareness.
The new website is filled with oral health facts, called Tooth Truths, such as baby teeth hold space for adult teeth to grow in straight and dental problems in baby teeth are a leading cause of school absences later in life. Also, all parents are encouraged to schedule their child's first dental visit when they see their first tooth or by their first birthday.
National Children's Dental Health Month is in February, but FTF's oral health resources help parents across Arizona to keep their child smiling with confidence all year long.
At the Healthy Teeth website, parents learn that every baby is born with 20 little teeth growing under their gums. Once they break through, baby teeth hold space for permanent teeth. And when a baby tooth is lost too early — most often due to tooth decay — permanent teeth can come in crooked, crowded or not at all. Tooth decay (cavities) can also be painful, making it hard to speak, eat and learn.
That's why oral health in young children plays an important role in a child's overall wellbeing. Yet, tooth decay is the most common chronic disease faced by young children and is also 100% preventable.
The Healthy Teeth website offers basic, but often unknown, tips to prevent tooth decay, including in babies. For example, germs that can cause decay can be passed from parents to babies when they lick their pacifier.
Here are four easy tips:
Don't share germs.

Your baby is born with no germs in their mouth, but germs are easily passed from yours to theirs — when you share spoons, food or lick their pacifier. Do your best to not put things from your mouth into your baby's mouth.

Limit sugar.

Sugar is in many foods, especially sweets (candy, cookies, flavored yogurt and pudding), snacks (chips and French fries) and sweet drinks (soda, juice, teas and sports drinks). Try to serve healthier foods and snacks and give your child more water to drink.

Take care of their teeth at home.

Starting at birth, clean your baby's gums with a clean, soft washcloth after each feeding. Once their first teeth appear (usually at about 6 months), gently brush with a soft infant toothbrush and a small amount of fluoride toothpaste, about the size of a grain of rice. From ages 1 to 3, try to brush twice a day for two minutes using a smear of fluoride toothpaste. The best times to brush are after breakfast and before bed. Starting at age 3, brush with a pea-sized amount of toothpaste.

Take your child to regular dental check-ups.

Schedule your child's first dental visit when you see their first tooth or by their first birthday. Just like they need an annual check-up with their doctor, your child needs a dental check-up starting at age 1 and every year after that to prevent tooth decay and the need for much costlier dental care later. If your child is on the state's Medicaid system, Arizona Health Care Cost Containment System (AHCCCS) or KidsCare, dental check-ups are covered.