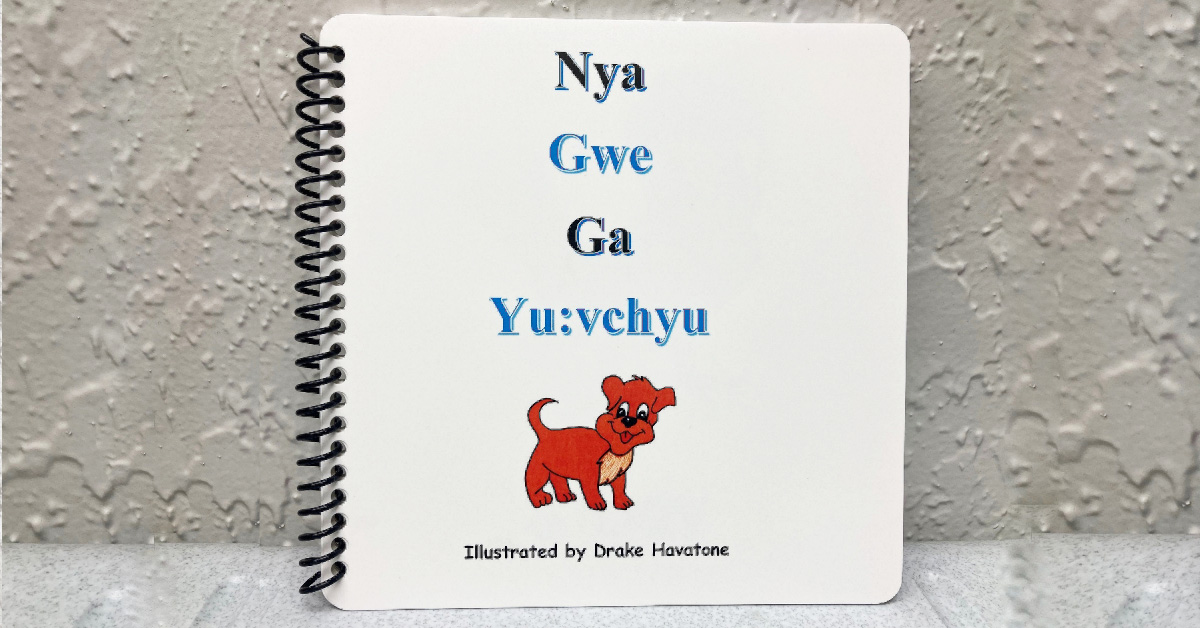 A new children's book in the Hualapai language is designed to support families' efforts to begin teaching the language at an early age as a way to preserve culture and identity.
The First Things First Hualapai Tribe Regional Partnership Council funds native language preservation strategies to give parents and other caregivers tools to promote their children's language development that are appropriate to their children's age and culture.
Over the past few years, community leaders have encouraged a child's first language to be Hualapai.
"Regional council members wanted to support the language building efforts," said FTF Hualapai Tribe Regional Director Tara Gene. "We started with one book on one topic and will go from there."
The native language project between the Hualapai Tribe's Cultural Resources Department and FTF started about six years ago when the FTF Hualapai Tribe Regional Council funded the creation of a set of bilingual storybooks in English and Hualapai for families of babies, toddlers and preschoolers.
This time, the book is based on sight words with names of animals, colors and numbers, all in the Hualapai language. A local artist with the cultural center created the art for the first book.
Chira Walema, director of the Hualapai Day Care Center, which is distributing the book, said it is important to support language preservation, especially at a young age.
"So many are not connecting with our culture and that language is going to be lost," she said. "It's great that we're thinking about different ways to make that connection."
More and more families are interested in raising their children bilingually – for many reasons including the positive research that a second language aids brain development, supporting cultural connections and expanding future professional opportunities.
Research shows that the best possible time to learn a second language is during early childhood. In fact, since language begins with sounds, babies are born with the ability to learn all languages in the world.
According to researchers from the University of Washington, at birth, a baby brain can tell the difference between all 800 sounds that make up all the world's languages. Each language uses about 40 of those sounds.
"(Early childhood) is the optimal period for natural language acquisition and development of the first language," said Sheilah Nicholas, who moderated a 2019 FTF Early Childhood Summit panel discussion on language preservation. She is a member of the Hopi Tribe, an associate professor at the University of Arizona and a faculty instructor for the American Indian Language Development Institute. "It is a time when the natural environment and conditions are that the child is immersed in a language-rich environment provided by significant caretakers that may include extended family members—such as grandmothers who have been central in traditional childrearing practices."
The new Hualapai book, which is free and funded through the FTF Hualapai Tribe Regional Council, is available for parents to pick up at the Hualapai Day Care Center. Parents can pick up a book, even if they don't have a child enrolled at the center.
Teachers at the center are also using the book in their lessons. There are plans to possibly do a storytime using the book on the local radio station to encourage more families to use the books.
Parents who may not know the correct pronunciation of certain words are directed to a YouTube channel where they can hear the proper pronunciation.
Walema said she expects parents, even those who aren't fluent in the Hualapai language, to appreciate the books.
"Incorporating the culture early helps the children retain it," she said. "I wish I had these books when my kids were younger. My husband was excited when I showed him the books for the younger kids. He also said he wished we had these when our kids were babies."