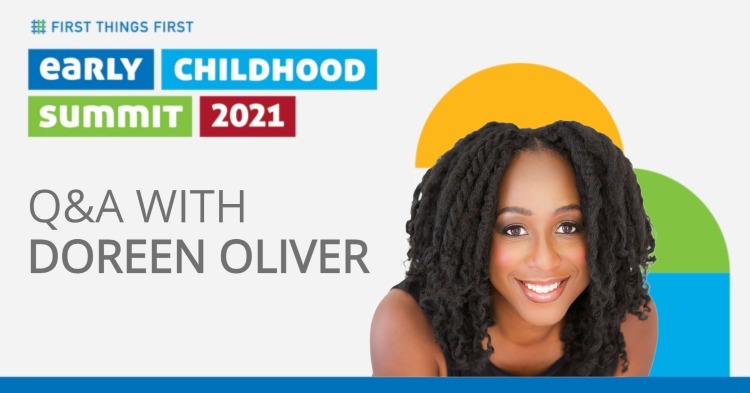 When Doreen Oliver's son was first diagnosed with autism, she searched for ways to support him, finding deficits in the education and health systems. She wrote about her experiences in a critically acclaimed and award-winning one-woman show about raising a child with autism called "Everything Is Fine Until It's Not." She's also published essays on the subject in the New York Times and Washington Post.
As the closing keynote at the First Things First Early Childhood Summit 2021, she'll share her life experiences and insights for early education professionals on how to support parents raising kids with extra challenges.
One of the simplest and most effective ways to help parents is to create a support team, she said. It can pose the greatest challenges, but offers the greatest victories for children with special needs. She defines a support team as parents and early childhood educators and therapists working toward the common goal of helping a child, showing each other equal respect and sharing information.
"First of all, let me say, I love teachers. Teachers, educators and therapists who take their time – and pieces of their hearts – to devote to the care and well-being of children," said Oliver. "Neither of my children – both the one with autism and the one without – would be where they are without them. And I've learned so much about parenting and relating to children by watching or speaking with these hard-working experts."
While Oliver respects the expertise of educators and therapists, she says it's important that they respect her perspective as a parent.
"There is likely no one who knows children better than parents do, and forging a mutually respectful partnership between parent and teacher from the beginning can really help children soar," she said.
Part of Oliver's journey, which she touches on in her show, has been to find and collaborate with experts to create a plan for her son. One of the key factors she found in these relationships is the ability to practice effective listening with each other. This means keeping eye contact, absorbing the information shared and relaying the message back, so that the speaker knows they are understood.
"Parents have so many things that we're trying to juggle: the diagnosis, various treatments and interventions, our child, our other children, marriage, extended family, work, etc.," said Oliver. "So to support parents, please listen to them, and really hear what they are saying about their child and what's happening in their lives, so that you can help provide the best interventions."
Oliver will be sharing more about her experiences and how she forged strong, effective relationships with educators to help her son succeed in school and life at the First Things First Early Childhood Summit on Aug. 17. Learn more about the Summit at FirstThingsFirst.org.