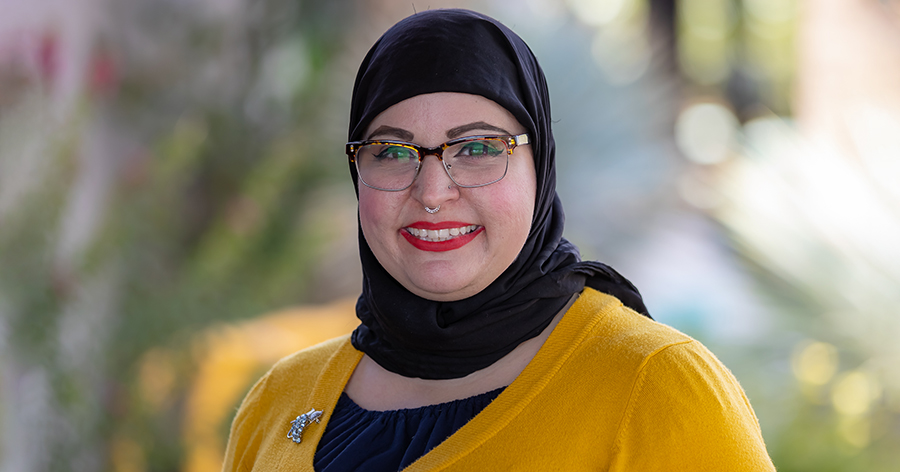 Mona Qafisheh is currently the President-Elect for Arizona Association for the Education of Young Children (AzAEYC). She began her career as a toddler teacher almost 20 years ago.
Q: What is the Week of the Young Child™ and how is it celebrated in Arizona?
A: Week of the Young Child™ (WOYC) is an annual celebration hosted by the National Association for the Education of Young Children (NAEYC) to raise awareness about the importance of quality early learning. WOYC 2020 takes place from April 11–17. Early childhood programs, community groups, and First Things First regional partnership councils around the state will be celebrating children and families and spotlighting quality programs.
Q: Why is early childhood education so important?
A: Children are born researchers; curious and interested in learning about their world.  Providing them with safe, nurturing spaces to learn and grow early in life sets them up with the skills and knowledge they need to be successful in life. Ninety percent of a child's brain growth occurs by age 5 and the majority of that growth occurs by age 3. High-quality early childhood education, and in particular high-quality infant and toddler care, is essential in order to provide children places where they can build trusting relationships with caring adults and essentially shape how their brain functions.
Q: Talk about your career in early childhood education. How did you enter the field?
A: I have worked in the field of early education since 2001. I began my career as a toddler teacher because I needed a job and had been a summer camp counselor for 10- and 11-year-olds throughout high school. My long term goal at the time was to be a marriage and family counselor and I figured working with kids could only help. Like many of my early childhood education (ECE) colleagues, I entered the field by accident, but I've stayed because I love it. I think back fondly to that first year as a toddler teacher and reflect on how much I've learned and how much the field has changed.
Q: What is your current role in the field?
A: I now serve as the Director of Grants and Contracts at the Association for Supportive Child Care. I am lucky I have an opportunity to support children, their families, and ECE professionals by ensuring that we can provide great programming to communities all across the state. As an almost 20-year NAEYC member, in 2019, I decided that I wanted to be more involved at a local level and ran for AzAEYC board service. I am thrilled to now serve as President-Elect.
Q: What inspires you in accomplishing this work?
A: The work that AzAEYC, FTF, and other early childhood partners across the state have done to make kids' lives better inspires me on a daily basis. When the work gets complicated or tough, or it doesn't seem like things are getting better fast enough I reflect on just how far Arizona has come. I'm a proud Arizona resident, but I'm also a proud early childhood advocate. 
Q: What's an example of how AzAEYC specifically works to support early learning programs?
A: The AZToolkit is a comprehensive resource for early learning providers in Arizona designed to help save time, increase quality, reduce costs, and share knowledge. AZToolkit helps early learning providers meet the daily demands of the business administration side of their work by providing the resources needed to manage their programs more efficiently and effectively. With more than 1,800 tools and resources currently available on AZToolkit, professionals are given the much-needed bandwidth to spend fewer resources on administrative tasks — and more time focusing on improving quality for children and families.
Q: How can families of young children support high-quality early childhood education?
A: One of the most impactful ways to support early childhood education is to vote! You can reach out to and build a rapport with your local, state and national representatives. Lawmakers are often very responsive and engaging through email or interactions on social media. America for Early Ed has resources and materials that can help you learn how to build relationships with candidates and expand your public policy knowledge. Your voice matters!
Q: What are some ways that AzAEYC is bringing attention to the importance of early education?
A: AzAEYC was pleased to offer the second annual Arizona Public Policy Forum in collaboration with the Southern Arizona Association for the Education of Young Children (SAZAEYC), Arizona Early Childhood Education Association, and Child & Family Resources. The same event was held in Phoenix and Tucson and attendees will be able to hear from experts on why quality early learning is so important for our future, sharpen their skills as an advocate for quality early learning, and network with other families, educators, and community champions.
Q: What message do you hope to broadcast loud and clear to the public?
A: Professionals that care for and educate young children in classrooms, centers, and homes are heroes. They may not be solving crimes and rounding up criminals, but when I see an infant teacher softly rocking a crying baby to sleep, I see a child's capacity to bond with and trust others expand a little bit more. When a toddler teacher supports a 2-year-old through their frustration of not being able to complete a puzzle on their own, I see that child building grit and an awareness that there will always be people to support them. When a preschool teacher encourages a child to problem solve with their peers and express their feelings and thoughts, I see a child that is realizing that navigating complex social situations is easier with someone in your corner.  The work that early childhood professionals do every day is changing the world.