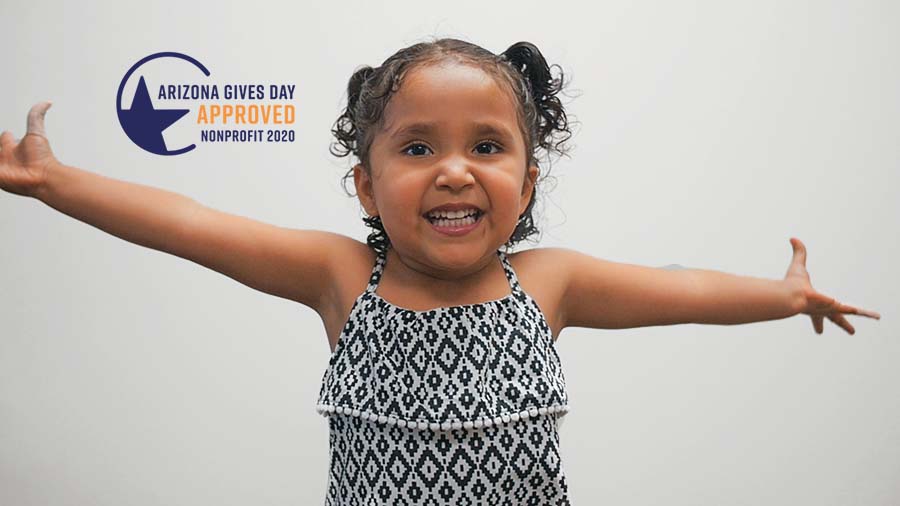 First Things First is participating in Arizona Gives Day this year to increase awareness of investing in early childhood.
The annual giving event, run by the Alliance of Arizona Nonprofits, brings together nonprofit organizations to increase philanthropy in Arizona through online giving. This year the day falls on April 7.
"The event helps raise awareness about the critical role Arizona nonprofits play in our communities and inspires people to give generously, creating a stronger Arizona for all," said Stephen Sparks, director of FTF's Fund Development and Strategic Investments.
FTF will be sharing information about the Early Childhood Scholarship Fund, a fund at the Arizona Community Foundation that directly supports FTF Quality First Scholarships. The scholarships increase access to high-quality early education for children birth to age 5 from low-income families in Arizona.
 "The Early Childhood Scholarship Fund is one of many worthy causes to which givers can choose to donate," Sparks said. 
The fundraising day will also give donors the opportunity to give to the Nonprofit Emergency Relief Fund, which will help Arizona nonprofits that have had to cancel critical fundraising events and revenue-generating programming amid coronavirus health concerns. Donors will have the opportunity to increase their donation as an add-on to the Emergency Relief Fund at checkout.
This is the first year that the Early Childhood Scholarship Fund will be an option during Arizona Gives Day.  FTF founder and former Board chair, Nadine Mathis Basha, made a personal donation in 2019 to establish the fund, designating FTF as the sole recipient organization.
FTF's signature program, Quality First, helps early childhood centers make quality improvements that research proves help children thrive, such as creating learning environments that nurture the emotional, social and academic development of every child.
Quality First scholarships help eligible families afford to send their child to quality child care centers and preschools. Quality is one of the most important factors to consider in child care and preschool. Research shows that quality early learning settings help young children develop important skills — like motivation, self-control, focus and getting along with others — that make a big difference in their ability to succeed in school and in life.
FTF has created a Giving webpage that provides additional information on how to invest in early childhood, including specific information on the Early Childhood Scholarship Fund and how to designate donations to be used in specific FTF regions. For more information about Arizona Gives Day, visit azgives.org.