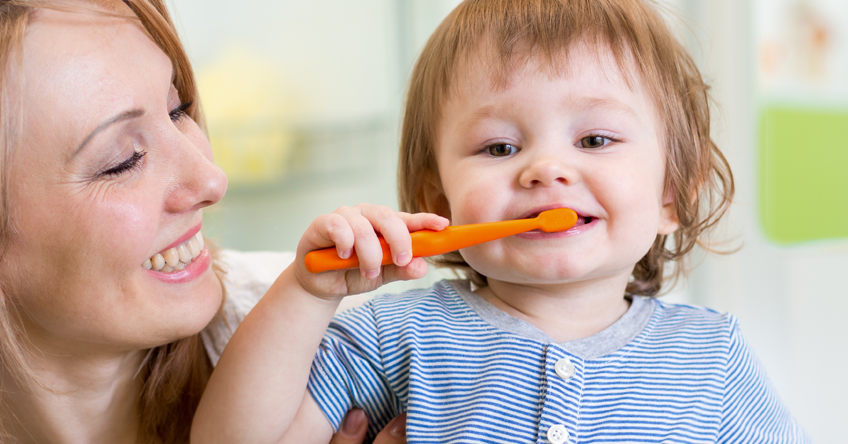 Preventing oral disease and developing good oral health starts at birth. Thanks to a partnership between First Things First and Delta Dental of Arizona Foundation, new parents are being provided tools needed to establish good habits before they even leave the hospital.
An oral health pouch has been added to the Arizona Parent Kit to help parents be the first defense in preventing tooth decay in Arizona's youngest children. The Arizona Parent Kit is offered– free of charge – to parents of all newborns before they leave the hospital or birthing center. It contains resources to help parents support their child in each phase of their early development, from baby to toddler to preschooler, in recognition that 90 percent of brain development happens by age 5.
"Tooth decay is the most common chronic disease faced by young children," said Joe Fu, First Things First's Senior Director for Children's Health. "It is also highly preventable. Because early experiences, including health-related experiences, determine whether a child develops in ways that promote learning, it makes sense to get an early start to good oral health."
Through the partnership with Delta Dental of Arizona Foundation, each of the nearly 70,000 Arizona Parent Kits delivered every year will include a dental kit that contains tips about caring for a young child's teeth, as well as a child's toothbrush and fluoride toothpaste.
Left untreated, tooth decay in young children's primary teeth puts them at risk for future problems like damaged permanent teeth; increased vulnerability to infections in other parts of the body, such as the ears, sinuses and the brain; impaired speech development; and poor performance or attendance at school due to dental pain. Dental issues are the leading cause of missed school days; one study estimates oral disease nationally causes kids to miss 51 million school hours per year.
Through community-based oral health screenings and application of preventive fluoride treatments, First Things First and its partners have reduced the percentage of kindergarteners with tooth decay from 35 percent to 27 percent and have cut the percentage of kindergartners who have never been to the dentist in half, from 25 percent to 10 percent.
Challenges remain. About 52 percent of Arizona's kindergartners have experienced tooth decay compared with 36 percent of 5-year-old children nationally. The partnership between First Things First and the Delta Dental of Arizona Foundation will help expand FTF's successful oral health efforts to parents of younger children.
The new dental kits join a robust array of resources the Parent Kit offers to new parents, including tools to:
Connect families to helpful resources through the Arizona Parent Guide, which provides 80 pages of information and resources to help parents care for their child, including tips about child development, health and safety, quality child care and school readiness
Promote early literacy with a board book and book mark to encourage parents to begin reading to and with their child from the very beginning
Remind parents that expert help is a phone call away with a refrigerator magnet promoting the toll-free Birth to Five Helpline, which provides free advice and answers to the toughest parenting questions from nurses and other child development experts
These tools help to ensure that all Arizona's kids are healthy and ready to succeed to school and in life.