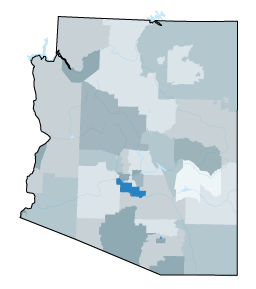 1500
Population of young children (under age 6)
74%
Percentage of young children living in poverty
The Gila River Indian Community is located on 372,000 acres of land in south-central Arizona. The Community lies south of the cities of Phoenix, Tempe and Chandler and north of Casa Grande. The Community is divided into seven districts, with the central government seat in Sacaton. Tribal membership includes the Akimel O'otham (Pima) and Pee Posh (Maricopa) tribes. The boundaries of the First Things First Gila River Indian Community match those of the reservation boundaries.
Priorities
The Gila River Indian Community Regional Partnership Council makes strategic investments to support the healthy development and learning of the young children in the region. The council's priorities include:
Strengthening families through home visitation services for children ages 0 to 3
Supporting teen-parents through, education and connection to resources in the region through Family Support Coordination and Parenting Education classes
Supporting early learning providers and preschool programs, in promoting healthy social-emotional development
Scholarships for children to access high-quality early learning
Learn more about what we fund.
---
First Things First Staff
Jennifer Johnson
Sr. Director, Phoenix Region & Gila River Indian Community
Kaitlin Whitton
Administrative Assistant II, Gila River Indian Community & Phoenix South
Regional Office
4000 N Central Ave
Phoenix, AZ 85012