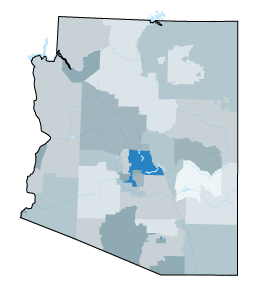 54,701
Population of young children (under age 6)
14%
Percentage of young children living in poverty
The East Maricopa Region lies entirely within Maricopa County and spans urban communities to the east of Phoenix as well as less densely populated, suburban and rural communities reaching towards the edges of the Maricopa County boundary. This diverse, expansive region includes: three cities — Chandler, Scottsdale and Tempe; five towns — Carefree, Cave Creek, Fountain Hills, Guadalupe and Paradise Valley; three unincorporated places — Goldfield Ranch, Rio Verde and Sun Lakes; two Phoenix neighborhoods — Ahwatukee and Paradise Valley Village; and one Indian reservation — the Fort McDowell Yavapai Nation.
Priorities
The East Maricopa Regional Partnership Council makes strategic investments to support the healthy development and learning of the young children in the region. The regional council's priorities include:
Improving the quality of child care and preschool programs
Scholarships for children to access high-quality early learning
Strengthening families through parenting education, voluntary home visiting and family resource centers.
Oral health screenings and fluoride varnishes
Supporting access to healthcare for children
---
Regional Publications
---
Commitment Statement
We recognize that traumatic events in people's lives have a profound impact psychologically, academically and physically, and we understand there are informed and intentional practices to help identify, address and bring healing. We also understand that trauma affects people in many different ways. The East Maricopa Region is committed to consistently deepening its understanding, strategies and resources with a trauma-informed lens.
---
First Things First Staff
Karen Yearwood
Sr. Director, Maricopa Regional Area
Lisa Ciolli
Community Engagement Coordinator
Caitlyn Hollins
Administrative Assistant III - Maricopa Region
Regional Office
1839 S Alma School Rd, Ste 100
Mesa, AZ 85210