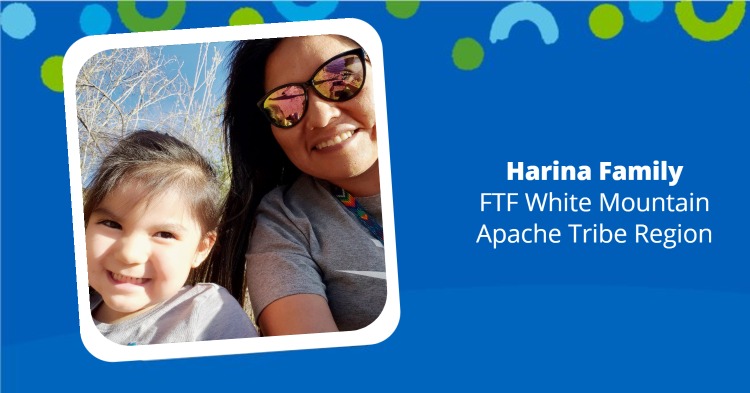 When Yolanda Harina of Whiteriver adopted a little girl last fall, she decided it would be a good idea to freshen up her parenting skills. The child she was raising was already a teenager, so it had been years since she had a toddler at home.
"My son is 15 years old, so there's a large gap," she said.
When she learned about Parents as Teachers, a home visitation program that provides in-home parent coaching through Arizona's Children Association, she immediately enrolled. The program, which is funded by the First Things First White Mountain Apache Tribe Regional Partnership Council, provides a parent educator who makes home visits twice a month to work alongside parents on child development, nutrition, age-appropriate communication and discipline techniques.
"The parents set goals, some of them may need help with temper tantrums, or potty training or whatever aspect of child development that they want more information about or assistance with," said Claude Endfield, a parent educator.
While the program continues to enroll families, the association brings together families for child development learning and socialization at monthly gatherings known as Group Connections. 
"Parents come and get basic information on different aspects of child development and then we have activities for them to do with the children they have with them," Endfield said.
Harina and her 3-year-old daughter, Joslyn, have attended those meetings. The toddler has enjoyed the children's activities offered, as well as being around other youngsters – and she has been especially fascinated with books, her mother said. 
In fact, Harina said, books are helping her daughter come out of her shell. "When I first adopted her, she was shy and scared. She wouldn't talk, she would just babble."
But in the months since Joslyn became a member of the family, her mother has noticed a gradual transformation. Harina credits the parenting tips she's picked up so far. She reads books, including culturally-appropriate ones that Endfield has provided, for at least 20 minutes daily to her daughter, a routine activity that she can already see is making a difference in her child's development.
"I read to her every night and show her pictures of animals and optics in the book," the mother said. "Now she's talking a lot more."
Studies show that children whose parents and caregivers regularly read to them in the early years — when the brain develops rapidly — help them become better readers who do well in school.  Given the developmental strides that Joslyn, now a preschooler, has made so far, Harina is certain that Joslyn will have the skills needed to succeed in kindergarten. 
In the meantime, she'll continue "learning her colors, counting her numbers to 10 and singing songs," her mother said.