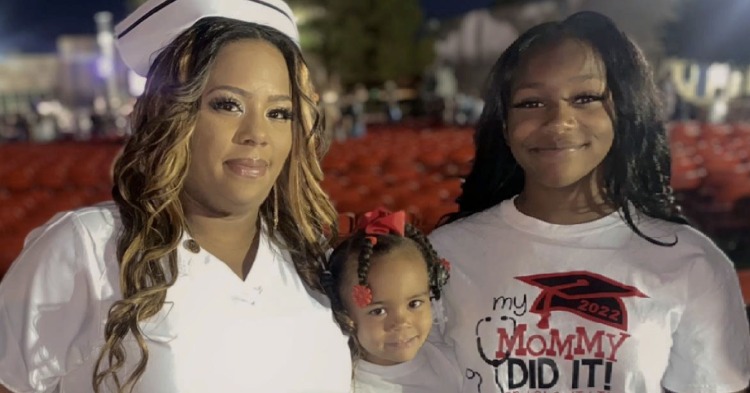 After nearly a decade of juggling motherhood and a job as a licensed practical nurse, Serena Hernandez decided to go back to school. She was ready to make the next stride in her career.
"I wanted to open up the opportunities for myself," the single mom said. But the high cost of child care, especially a high-quality child care, gave her pause.
She didn't want to sacrifice her 3-year-old daughter's care. When her daughter, Aniyah, received a Quality First scholarship to
continue attending Great Expectations Early Learning Center in Sierra Vista, it brought immediate relief to Hernandez, whose budget tightened while taking classes.
"It was a huge blessing for me," she said of her child's scholarship. "It allowed me to not have to work so I could focus on school because the program was full time."
First Things First created the Quality First program to help child care providers in the state improve the quality of their programs in ways that help young children be ready for kindergarten. Participating in Quality First is free for regulated child care centers, homes and preschool programs in Arizona.
The scholarships, funded through the FTF Cochise Regional Partnership Council, are available for children birth to age 5, so families in Cochise County can afford to send their children to providers who offer quality care and education.
The scholarship allowed Aniyah, to stay at Great Expectations, where she had been enrolled since she was 10 months old. Hernandez sees a positive impact on her daughter's growth and development.
"She's definitely become more social. She's learned how to play with other kids better, she's learned songs, she's learned her colors," said Serena Hernandez.
Hernandez has no doubts that her preschool activities will serve her well as she enters kindergarten, just as they did for Aniyah's big sister, Kaliyah. Now 12, she attended the same early learning center and received a scholarship. When she turned 5, Kaliyah not only recognized letters and colors, but was also starting to
write, her mother said.
"She was really prepared for kindergarten," Hernandez said.
Kaliyah, who will start seventh grade this year, through the years has continued doing well academically, Hernandez said.
The scholarship assistance has been crucial for her family.
"It's really been a big help because I got through my first round of school when Kaliyah was little and then my second round now that I am with my next little girl," Hernandez said.
Knowing that Aniyah is receiving high-quality care makes her mother feel confident that she will have the skills needed to succeed in kindergarten.
"She's just not playing, she's learning all the time," said Serena Hernandez.