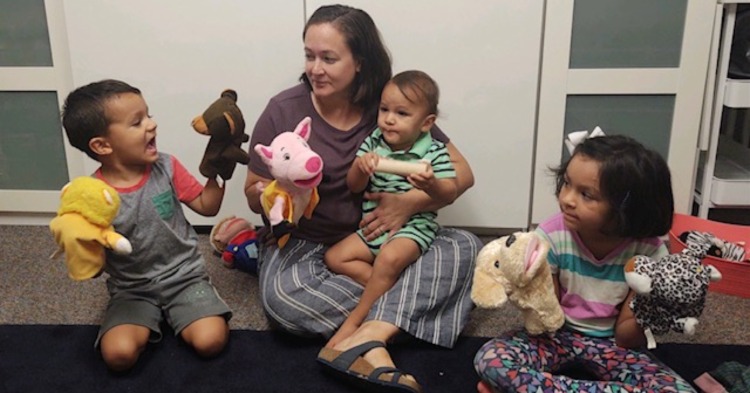 Catherine Morales knew the importance of the early years because she had worked as a family support specialist before deciding to stay home with her children.
Four years ago, she was pregnant with her second child, and her daughter, Susanna, was 2. Morales wanted to find a program that provided constructive activities to help her kids learn and prepare for kindergarten.
She also needed a program that was free and close to home. In addition, she wanted social interaction for her kids to spend quality time together and a parent support system.
"There's a large stretch of time that I can spend with my kids, and I want to make the most of it," Morales said. "Since the early years are essential, what they learn at home is what they will take to school. As a parent, I'm the catalyst to help my children learn and provide them with those opportunities."
Morales found the Lutheran Social Services of the Southwest Family Resource Center in west Mesa. The First Things First Southeast Maricopa Regional Partnership Council funds the center to provide a community hub of services, programs, guidance and support for families of kids birth to age 5.
The center provides families access to resources, referrals to support services and educational programs to ensure healthy growth and development for Mesa's youngest learners and their families as they grow and thrive together.
Morales frequently started visiting the center and quickly learned how to create quality early childhood experiences for her children. The family participated in activities such as Little Rembrandts, an early-learning activity introducing children to art techniques. This open-ended art focused on the process rather than the product.
This helped Morales realize that not all activities need a plan.
She could provide her children with materials and allow them to explore to promote fine and gross motor skills, creativity and even problem-solving.
In March 2020, Morales found out she was pregnant again right before the world entered into COVID-19 lockdown. Susanna was now 4, and preschool moved to online.
During the COVID-19 pandemic, the center started delivering take-home activities to families, and each week targeted a school readiness domain, like language and literacy development. The boxes included descriptions of how the activity affected child development.
"These provided a check-in and no contact way to support families," Morales said. "My kids were so excited to open the box, and the educational activities were a huge support since Susanna attended online preschool."
Morales also attributes family coaching as contributing to prepping Susanna for kindergarten. Through the program, the family coach helped her set a goal for Susanna, who needed help counting to 15 and provided support to complete the goal.
When it came time for kindergarten, Susanna was ready. She's moved on to first grade, but Morales credits her daughter's success to the foundation established from programs at the LSS-SW Family Resource Center.
"The center has made such a difference for our family," she said. "The support is amazing, and the coordinators make it very clear that parents aren't alone."