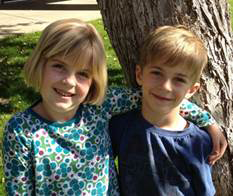 Hearing, vision and developmental challenges in young children can lead to learning problems later on. If detected early, however, many issues can be corrected or minimized before a child enters school. This was the case with 4-year-old twins R.J. and Drew. Both children received vision and hearing screenings at their child care center through Building a Screening Infrastructure for Children's Success (BASICS), a program of The Ear Foundation of Arizona funded by First Things First in Central Phoenix.
After their first screening, Drew was referred for further evaluation of her hearing, and R.J. was referred for a comprehensive eye exam. After seeing specialists, Drew was diagnosed with severe hearing deficiency that required ear tubes and adenoid removal. R.J. had near-sighted vision and now wears prescription glasses for studying and computer games. The preschoolers' mother said the hearing and vision issues had not been detected during the children's regular pediatric check-ups.
"I am so thankful for The EAR Foundation and BASICS for alerting me to the problem," she said. "Because of your service, we fixed two major medical problems and both children are doing great at school."
Last year, the program visited 60 child care centers and performed just over 2,600 hearing screenings and 2,095 vision screenings. About eight percent of all children screened for hearing and 14 percent of all children screened for vision were referred for further evaluation by their medical home or by a specialist.