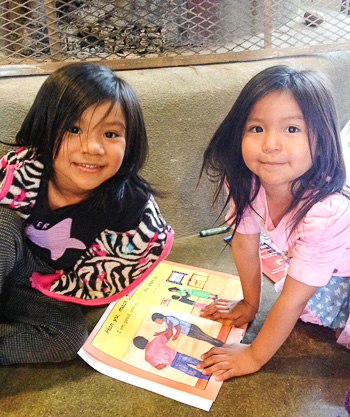 ​​​After almost two years, 7-year-old Lena Montana and her little sister, Alyssa, 5, still carry around their bilingual children's books filled with striking colors and words in both English and Hualapai.
The set of five books was given to the Peach Spring girls in 2014 as part of a native language project between the Hualapai Tribe's Cultural Resources Department and First Things First. The FTF Hualapai Tribe Region funded native language preservation strategies in FY15 to give parents and other caregivers in their community tools to promote their children's language development that are appropriate to their children's age and culture.
Research demonstrates the importance of language development to a child's future academic success. A child's vocabulary, attention and general knowledge at ages 3 and 4 are good predictors of reading comprehension levels at grades 3 and 4.
For the sisters, it was the vibrant artwork that first attracted them to the storybooks. For their parents, it was the chance to connect their children to their heritage.
You might be interested in:
"It's important to us for them to know who they are and where they came from," said the girls' mother Marie Montana.
The children's books were published with a special audio component as read by Tribal Elders living in Peach Springs. The books, illustrated by local artists, cover different themes such as common words and phrases; and, animals and geography. For example, one page contains a drawing of a rabbit sitting in the grass with the words Gul-Jack in Hualapai and rabbit in English.
In addition to encouraging caregivers to read to children, the books have sparked a community-wide conversation around early learning and the importance of story-telling/reading in the preservation of the Hualapai language. For the girls and their parents, reading the books turned into a fun family activity to learn how to say common terms such as "uncle" and "coyote" in Hualapai.
"It is important to us that the kids know their background, and seeing it in one of their favorite books helps them relate to that, and they are excited to learn new words at the same time," Montana said.