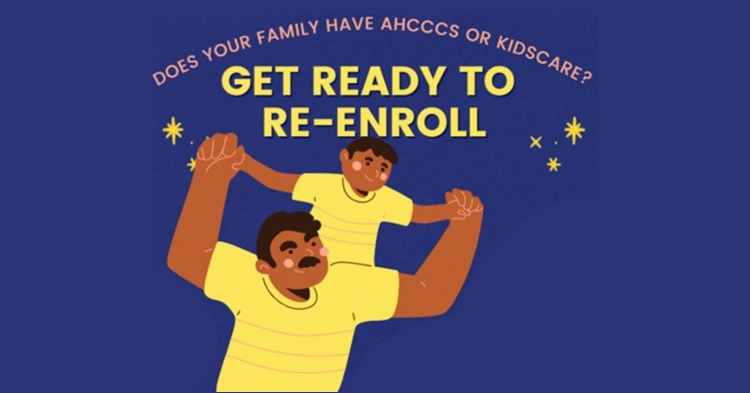 Families enrolled in KidsCare or Arizona Health Care Cost Containment System (AHCCCS) are at risk of getting dropped from coverage because a freeze on disenrollment is ending soon. Early childhood providers can help prevent this by encouraging families to update their contact information.
Starting April 1, disenrollment notices will begin to be sent to about 25% of families or an estimated 674,460 people in Arizona. Disenrollment will take place over the next year.
Members will only be disenrolled if they no longer meet eligibility requirements or do not respond to requests from AHCCCS for more information through the renewal process.
Since the start of the COVID-19 pandemic in 2020, AHCCCS has not disenrolled most AHCCCS members, regardless of eligibility. The freeze on disenrollment recently changed, putting children at risk of losing coverage.
In Arizona, almost half of the 1.74 million children under age 19 have health care coverage through AHCCCS or KidsCare, according to the Children's Action Alliance.
Research shows when kids have health coverage, they are more likely to be ready to learn and do better in school, go to college and succeed in life. Throughout the national public health emergency, Arizona children have remained enrolled in AHCCCS, which has helped babies, toddlers and preschoolers to go to the doctor and access screenings and treatments without interruption.
Here is some helpful information early childhood supporters can share with families and caregivers:
Make sure you update your mailing address and other contact information by calling AHCCCS at 1-855-432-7587 (TTY 1-800-842-6520). You can also update online by logging in to Health-e Arizona Plus.
Check your mailbox for a letter from AHCCCS about disenrollment.
Respond to any requests from AHCCCS for more information so the agency can accurately determine eligibility.
Visit cover.org/connector to make an appointment with a health care enrollment assistor.
For assistance in Spanish, families can call 2-1-1 to be connected with someone who can help.