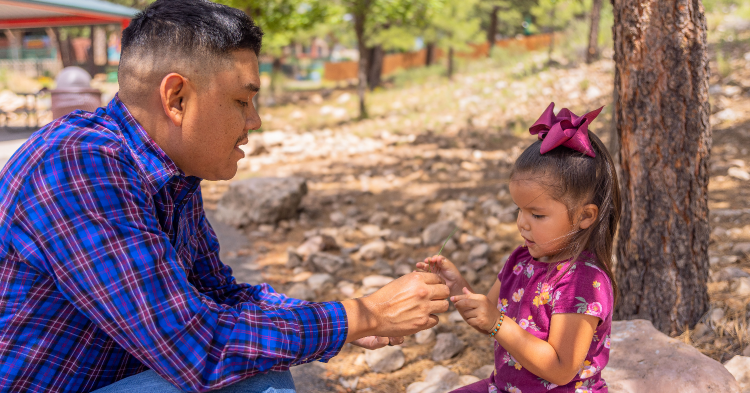 Making nature accessible to everyone, especially babies, toddlers and preschoolers, should be simple. After all, nature is everywhere.
But some organizations are becoming more intentional about what that means for families of young children, including considering how to engage today's parents who grew up in front of screens and may not have had the same outdoor experiences as previous generations.
For example, Nature Niños, in the Prescott area, is a free community program for families with children birth to age 8. Park rangers and community partners, including First Things First, lead child-centered play events at a different family-friendly trail each month.
"In our community, it was our birth to age 5 group that did not have programming in nature," said Nature Niños Education Director Ellen Bashor. "If there was something available, it was not free."
A big part of the program is to simply use more inclusive language. For instance, eliminating traditional hiking terms as a way to dismantle the idea of who is considered a hiker.
"Sometimes when you start to talk about who is a hiker and who isn't, it can make people scared to access nature," Bashor said. Instead, the program focuses on accessible trails.
"We think of what a family's needs are," she said. For example, can you push a stroller through the trail?  Is there somewhere to change diapers?
The monthly guided nature walks at different family-friendly trails are called Quail Trails. Young children participate in scavenger hunts, touching and feeling things outdoors. They do simple activities like making mud pies that parents can replicate on nature walks on their own.
The concept of young children learning through outdoor play is rooted in research. Play in an outdoor, natural environment helps engage a young child's senses and allows toddlers and preschoolers to exercise their bodies and minds.
"There is nothing more different than nature," Bashor said. "No leaf is the same. Every one provides an opportunity to compare and contrast to discover and create. For a child, a pinecone can be a school bus, a spaceship, a bear, your mom or dad. It challenges our brains to think and create in new ways."
Research shows that connecting young children with nature contributes to their healthy development, including cognitively, emotionally, socially and physically. It is a term referred to as executive function, which is how people hold information, focus attention, filter out distractions and problem-solve.
Together, executive function skills are prerequisites for successful outcomes in most facets of life—from personal relationships to emotional and physical health, from success in school to fulfilling careers, according to the Children & Nature Network, a national organization working to connect all children, their families and communities to nature.
Nature Niños is beginning to work with communities outside of Prescott, but Bashor, who also serves as president of the Arizona Association for Environmental Education, said she is seeing partners such as early childhood specialists, naturalists and scientists approaching local policymakers to focus on early childhood outdoor equity. They do this by encouraging the creation of policies for natural play areas in communities through landscape design.
"We know that it has to be followed by action in our community," Bashor said.
The easiest part will be getting the buy-in from the children.
"The kids will know it is in their brains and hearts as human beings to connect with the outdoors if we just give them that time," Bashor said. "It really does make an impact with the smallest and simplest change of including outdoor time in their playtime."