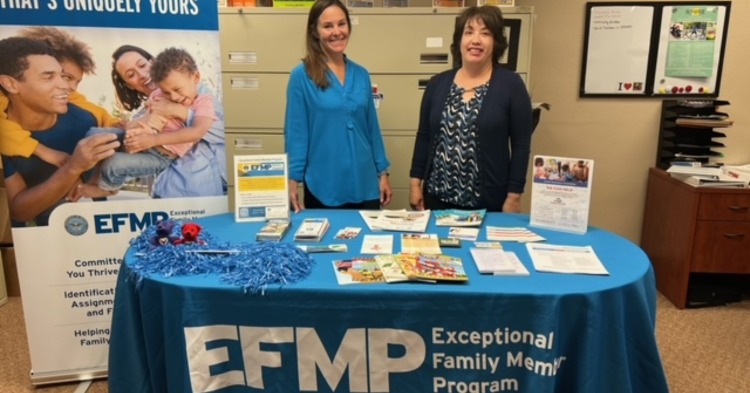 Across Arizona, First Things First has established partnerships with several military bases in order to reach families with young children.
From Luke Air Force Base in northwest Maricopa County to Fort Huachuca in Sierra Vista to Marine Corps Air Station in Yuma, FTF is providing support to babies, toddlers and preschoolers whose parents are in the military.
"Because of frequent moves, new moms with small children sometimes aren't able to tap into community resources," said Senaida Larson, team lead for the Airman and Family Readiness Center at Luke Air Force Base. "Or they may tap into the resources and then they move. FTF has helped us to help those new parents find support quickly."
Larson invites FTF to many of the base's events to provide military families with information about FTF's free resources, talk about the importance of early childhood and describe free programs available to them.
The collaboration between FTF and Arizona's military bases is evident during April's Month of the Military Child.
"Every April we recognize our resilient military-connected children to celebrate these amazing children for their selflessness and sacrifice as they serve our country as part of the military family," Larson said.
And throughout the month, the base has events and encourages everyone to "Purple Up" – to wear that signature color to celebrate military kids. Purple references the joint environment of the military, encompassing all branches of service, including veterans.
"We're raising awareness that the kids serve, too," Larson said. "The spouse serves as well, but so does the child."
FTF also attends Luke's monthly Bundles for Babies, which is a course that provides active military families with local resources.
In Yuma, FTF provides books and developmental milestone materials to the pediatric office located on base. The medical staff gives the books to children when they go in for their wellness check.
In the FTF Cochise Region, located in the southeast corner of Arizona, FTF Regional Director Melissa Avant said that FTF has been working with Fort Huachuca for more than a decade.
"Sierra Vista is a military town and having members on our regional council who are retired military and people who understand the military and Fort Huachuca and how it works throughout our community is invaluable," Avant said. "Deployment is hard for families to endure and although the military provides help, sometimes you do need resources outside the military base."
That's where FTF steps in to make families aware of programs such as home visitation, parent education and help finding child care, if they choose to find care off-base.
The region also sponsors the Month of the Military Child event at Fort Huachuca, which is a day of fun and learning for families.
"We set up a table and are able to share our programs and services we provide," Avant said.
Later in the year, FTF also sponsors Fort Huachuca's NOEL, Nights of Extraordinary Lights event, which is an evening of ice skating and literacy with Santa. FTF provides the age-appropriate books that Santa gives out to the children.
"Everything they do, we try to be in partnership because it's a way of life," Avant said. "We do understand that the needs of military families can be just as challenging as non-military and we want them to know that we're here to help."