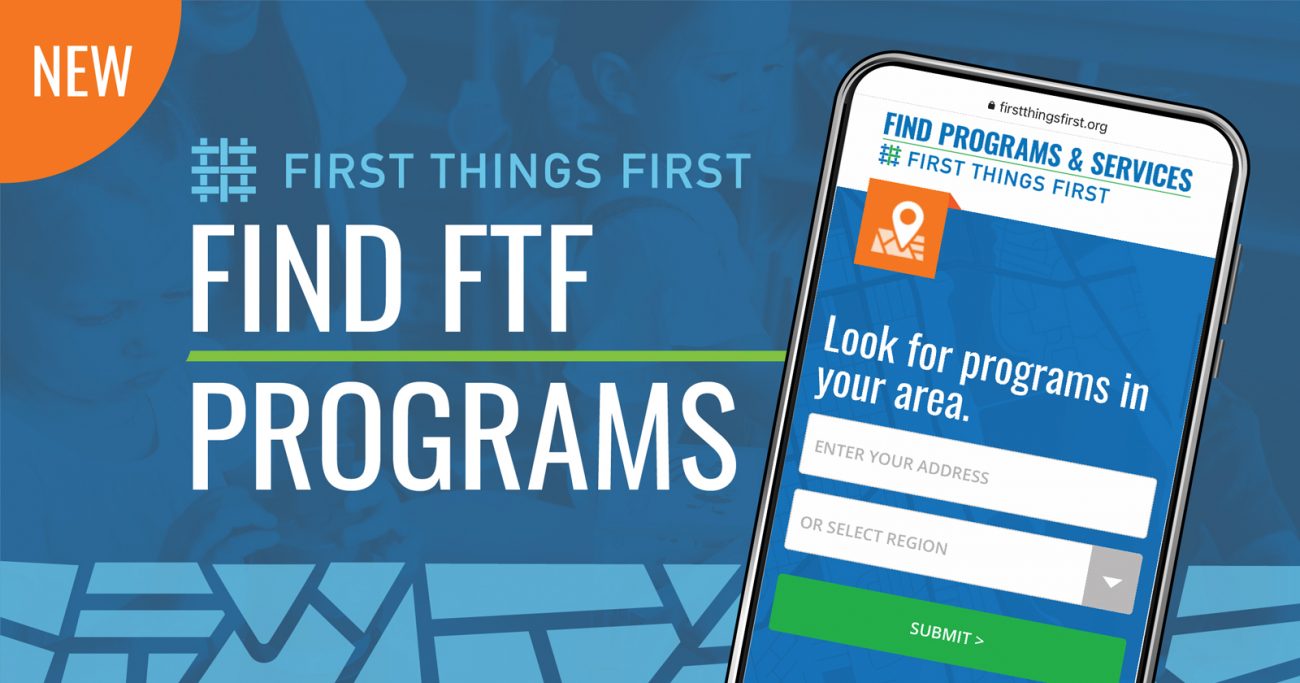 First Things First's new-and-improved online search tool makes it easy for families with young children to find FTF-funded early childhood programs and services in their Arizona community. Available on the FTF website in both English and Spanish, the updated tool connects families to free local programs — including parenting education, family resource centers, home visiting, oral health and more — that help them support their child's healthy development and learning.
Families can start their search at FirstThingsFirst.org/find-programs.
---
---
Arizona's Early Childhood Agency
First Things First provides funding for early childhood programs across our state through grants to community organizations that provide services at no cost for young children from birth to age 5 (before kindergarten) and their families. Each of the 28 First Things First regions studies the unique needs of its Arizona community and decides how early childhood funds will be used to best support its young children and families, so programs vary from region to region.
New and Improved Search Tool
The redesigned search tool is more user-friendly and includes new content pages to help explain each of the different types of programs available and why they might be of interest to parents and caregivers. The parenting education page, for example, includes a brief video, and most pages include links to family success stories. (More program type videos are coming soon.)
The tool also connects families looking for quality early learning programs with the Quality First website, which features information about why quality matters in child care and preschool; a checklist of what to look for when considering an early learning program for their baby, toddler or preschooler; and a listing of more than 1,000 providers in Arizona that participate in Quality First to improve the quality of their early learning programs.
Connecting with Additional Services
While the search tool lists only early childhood programs funded by First Things First, there are additional services available to Arizona families through DHS, DES, AHCCCS and many other partners in Arizona's early childhood system. And helping connect families with additional services is one of the intended outcomes of many FTF-funded programs, including family resource centers, home visiting, well-child care, supporting families with special needs and many others, as well.