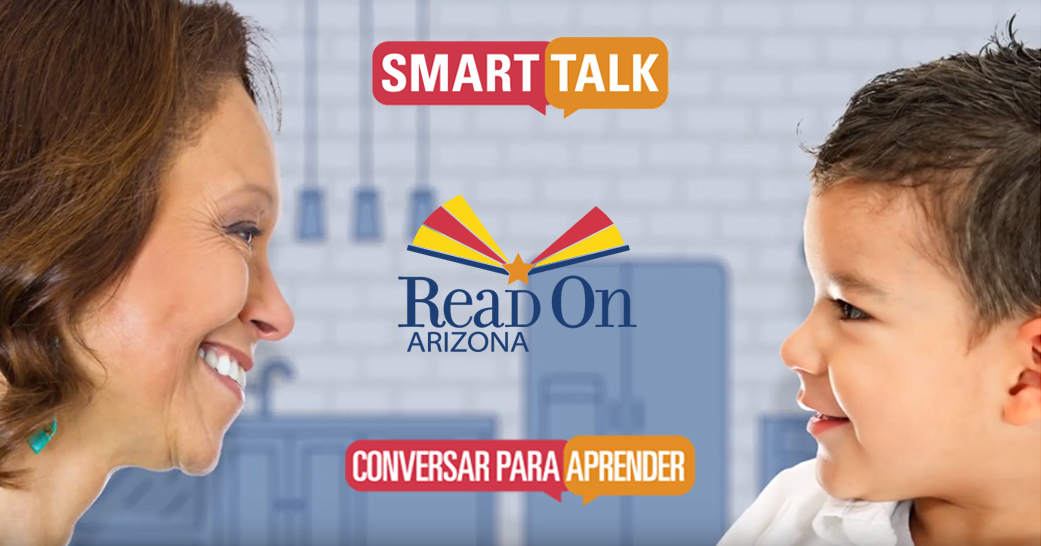 What's the best way to support the language and early literacy development of very young children? There's a well-established and growing base of evidence for the power of adult-child conversations with words.
A new, interactive learning tool from Read On Arizona — Smart Talk — is now available to help reinforce this message with parents and caregivers and model simple ways to make loving, back-and-forth conversation with babies and toddlers part of their everyday routines. Incorporating video and interactive elements, the Smart Talk learning tool is intended for families with children birth to age 3 as well as early childhood professionals who work with them.
Free, on-demand access to the Smart Talk learning tool is available on the Read On Arizona website.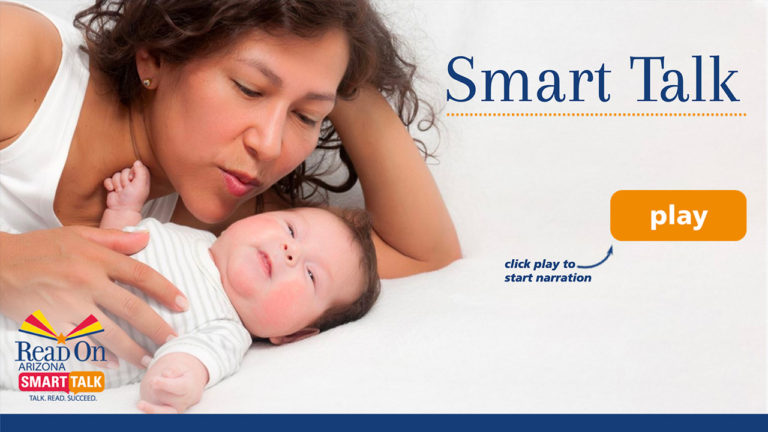 A Spanish-language version is coming soon. Other Smart Talk materials and videos are currently available in both English and Spanish.
Read On Arizona
First Things First is a founding partner of Read On Arizona, our state's early literacy initiative. Launched in 2013, it's a unique collaboration of the key agencies, philanthropic partners and community stakeholders working on early literacy in Arizona. Partners in Read On Arizona take a collective impact approach to improving language and literacy outcomes for Arizona's children from birth to age 8, with strategic focus on school readiness and third-grade reading proficiency. 
"Family engagement is a key to improving early literacy in Arizona," said Terri Clark, Arizona Literacy Director who leads Read On Arizona. "The Smart Talk interactive learning tool is another way we're supporting families with young children with information and resources to help their child develop the foundational language skills they need to become a thriving reader."
The Smart Talk interactive learning tool is the result of a partnership with Arizona State University's Center for Child Well-Being. The goal was to develop a short, online instruction module that is interactive, focused on the learning experience, and accessible to all, regardless of educational level, cultural background or learning style.
"Language and early literacy development starts from birth," said Dr. Judy Krysik, director of the ASU Center for Child Well-Being. "We're proud to partner with Read On Arizona and First Things First in developing this online learning module for parents and caregivers and contribute to the success of all Arizona children. Smart Talk is simple to do, it's fun, and it's free."
What is Smart Talk?
More than the quantity of words a child hears, it's quality talk that matters most. Even before children can use words themselves, engaging babies and toddlers in back-and-forth, responsive interactions helps them develop vocabulary and language skills that are strong predictors of later reading and school success. And more than just supporting early literacy development, engaging young children in loving conversation supports their social-emotional development, too.
Smart Talk highlights five simple ways to have responsive conversations with babies and toddlers:

Talk about what you are doing — changing diapers, feeding, getting dressed — and where you are or what you see.

Ask open-ended questions — who, what, where, when, why — even if your child can't respond with words.

Listen and respond to your child. Emphasize the back and forth in everyday activities by reacting to what your child does or says, even if that means imitating babble.

Reading books and telling stories are simple ways to introduce new and unusual words and build vocabulary.

Repeat words and short, simple sentences over and over. Echo what your child says and shows interest in.