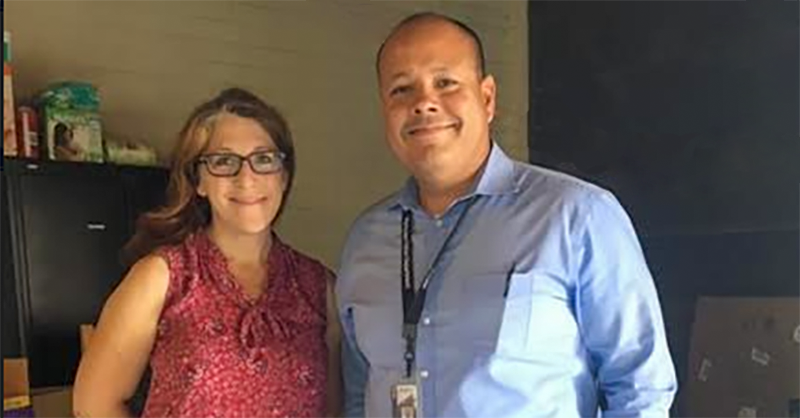 The Maricopa Family Advocacy Center recently received a van full of donated household items from employees who work at First Things First (FTF), Arizona's early childhood organization.
The Maricopa Family Advocacy Center was chosen as the recipient of this year's FTF employee giving day in October. FTF staff throughout Arizona supported the center with donations of dozens of basic resources such as paper towels, cleaning supplies, shampoo, conditioner and soap, among other things which the center can use to help maintain their facility or to give out to individuals and families in need.
The Maricopa Family Advocacy Center, which serves Maricopa and western Pinal County, works with victims of abuse and neglect, offering a calming location, medical examinations and advocacy in a single space, reducing the impact of trauma that many victims experience when seeking supportive services.
The collaboration between these two organizations was a natural fit, said Shannon Fontes, regional director for the FTF Pinal Region.
"First Things First values our community partners and continually seeks ways to support agencies whose work strengthens families," Fontes said. "We appreciate the support of staff throughout the state donating to such a worthwhile organization that supports children and families in vulnerable situations."
The center receives support from multiple local organizations, including the Maricopa Police Department and victim services agencies, to ensure that it is ready to support victims with trauma-focused services and necessary resources. However, many operational costs are not included in their budget. Community donations make a significant difference in the center's ability to meet the needs of the community.
"The Maricopa Family Advocacy Center cannot empower victims of violence or neglect without filling in the gaps of necessary daily operational needs, which is what First Things First has done through this much-needed donation," said Maricopa Police Department Community Programs Manager Mary Witkofski.  "Through this collaboration, the Maricopa Police Department can continue to 'Make Every Contact Excellent.'"