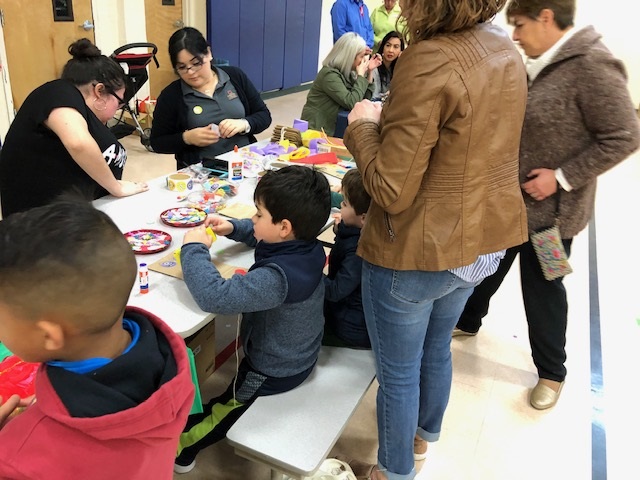 For the third year in a row, community organizations across Santa Cruz County will have a common focus: how a child's experiences in their first five years shape how they learn, grow and succeed later in life.
This community-wide recognition of February as Early Childhood Education Awareness month is a partnership between multiple community organizations. The First Things First Santa Cruz Region is partnering with the Santa Cruz County School Superintendent's Office, UA Cooperative Extension-Santa Cruz County and the Nogales/Santa Cruz Public Libraries to increase awareness about the importance of early childhood education.
The month-long celebration evolved from FTF's Celebrate the Young Child event, which is in its eighth year. The FTF Santa Cruz Region hosts the event in partnership with Santa Cruz County School Superintendent's Office. Dozens of families of young children attended this year's community event on Feb. 9, which was filled with fun family activities.
"We wanted parents to learn that there are simple, inexpensive ways to play with their babies, toddlers and preschoolers at home, while having the kids learn," Padilla said. "At the same time, parents learn about the different resources available to them."
A variety of events are scheduled throughout the month designed for families with children birth to age 5 and to honor early childhood providers and educators.
"In addition to increasing the overall awareness of early childhood, we also want to make sure that child care providers – in homes and centers – are recognized for the work that they do," said Francisco Padilla, FTF Santa Cruz regional director.
The Santa Cruz County Board of Supervisors recently proclaimed February as Early Childhood Education Awareness month at their meeting. Additionally, the Nogales, Rio Rico, Tubac and Sonoita public libraries will host story time, along with other activities throughout February. The superintendent's office will also host professional development training specifically for early childhood educators.
Even the business community is getting involved. The Nogales-Santa Cruz County Chamber of Commerce featured a presentation centered on the importance of early literacy for young children before they enter kindergarten. Research shows the importance of language development to a child's future academic success. A child's vocabulary, attention and general knowledge at ages 3 and 4 are good predictors of reading comprehension levels at ages 9 and 10.
Later in the month, the Nogales Rotary Club will host a luncheon to celebrate the Early Childhood Excellence Awards, where FTF's Padilla is among those being honored with an Early Childhood Excellence Award. The awards were created to acknowledge and highlight the work of outstanding community contributors in early childhood in Santa Cruz County.
"Early childhood professionals are a group that don't get the recognition they deserve," Padilla said. "We are very grateful to the Rotary Club for their sponsorship."