Community volunteers from the First Things First Southwest Maricopa Region were recently honored Tuesday at the FTF 2016 Early Childhood Summit held at the Phoenix Convention Center.
The FTF Southwest Maricopa Regional Partnership Council, made up of local volunteers from southwest Maricopa County cities including Avondale, Buckeye, Gila Bend, Goodyear, Litchfield Park, Tolleson and Tonopah, received the Eddie Basha Regional Partnership Council Excellence Award for Leadership and Service.
The annual award recognizes one of 28 regional councils from across Arizona for inspiring its local community to come together and promote positive and lasting change on behalf of young children, thereby enriching all of Arizona.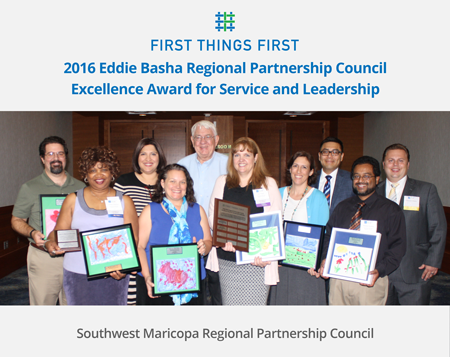 "Our council is so appreciative of this recognition," said Southwest Maricopa Council Chair Kimberly Flack. "It is an honor to partner with city governments, local businesses and school districts to serve families with young children."
Brandon Basha, the eldest grandson in the Basha family, presented the award to the community volunteers at the Summit.
He noted the council's efforts in creating an effective early childhood system, including opportunities for early interventions. This led the council to develop a Screening Network that included partnerships between the Arizona Learning Institute, which diagnoses children and trains professionals; three southwest regional family resource centers, two organizations which provide in-home parent coaching, as well as community based parent education, three local school districts and the Lions International Vision Program.
The network provides vision, hearing, developmental and sensory screenings for kids under 5 in the southwest Maricopa County region. The earlier developmental delays are detected, the sooner a child can receive the support they need to reach their full potential. In fiscal year 2015, the region provided screenings for almost 800 children from southwest Maricopa County.
Many times the collaborations between community partners find a home in the area's family resource centers, which FTF supports. These centers in Gila Bend, Buckeye and Avondale provide a one-stop shop for early childhood literacy, nutrition, health and young child-centered activities.
"Historically, the southwest Maricopa region has overcome challenges related to distance, population and lack of infrastructure," Flack said. "We have worked hard together to strategically address the needs of our diverse rural and urban region to ensure our young children are served. It was essential for us as a small region to collaborate with partners on strategies, tools and resources to leverage every single dollar, all in service of kids birth to five."
The award is named after iconic Arizona businessman, humanitarian and staunch advocate for public education Eddie Basha, who spent his life championing children and the communities that nurture them. Basha was one of the primary proponents of the ballot measure that created First Things First, a statewide organization that funds early education and health programs to help kids be successful once they enter kindergarten, and one of the movement's most fierce champions.
"My grandfather believed deeply in the power of families and that it was the community's duty to support families in creating the best possible future for all children in this state that he so loved," Basha said.