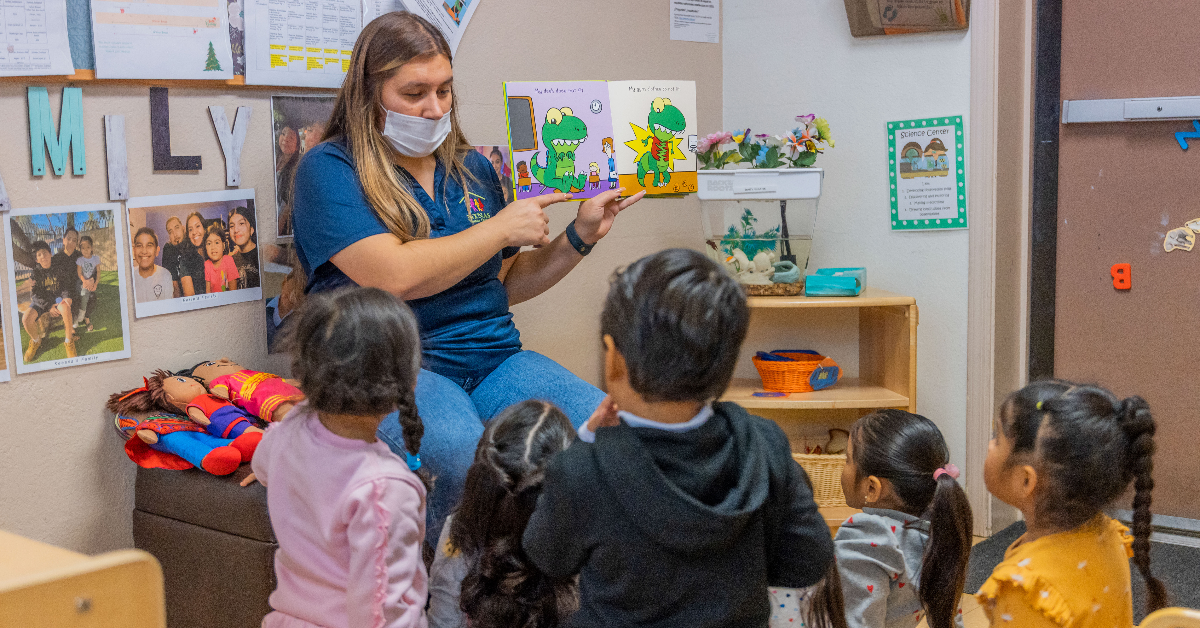 A grant designed to help early childhood teachers be more effective in preventing and reducing challenging classroom behaviors has been renewed in the First Things First Graham/Greenlee Region.
The United Way of Graham and Greenlee Counties recently renewed FTF's 2020 grant that allowed for the expansion of early childhood mental health consultation services to two additional child care centers in the two counties, bringing the total to five centers. The year-to-year grant provides almost $25,000 per year for the services at two centers.  
"We are happy to continue the partnership with United Way and recognize that early childhood mental health consultation is a vital part to building the capacity of teachers in our community," said FTF Graham/Greenlee Regional Director Shari Elkins. "It helps children feel safe and thrive in their environment."
Research on early childhood mental health consultation programs shows that they are effective in preventing and reducing challenging classroom behaviors, improving teacher skills and lowering preschool expulsion rates.
For the Palomita Early Learning Center in Safford, the early childhood mental health consultant classroom visits have been key to supporting their teachers and helping children be successful in the classroom.
"Having an early childhood mental health consultant is invaluable, because we look at a child holistically," said Megan Wills, associate director of Easterseals Blake Foundation, the organization that runs the Palomita center. "We've had some really complex situations. Specifically, high level of challenging behavior for a couple of kids."
Healthy social-emotional development for young children provides a solid foundation for school readiness and other positive long-term outcomes. Most children successfully progress in their development becoming socially and emotionally competent. However, for children who experience trauma through adverse childhood experiences (ACEs), additional support is needed in managing behaviors, building healthy relationships and regulating emotions.
In 2012, the National Survey of Children's Health indicated Graham and Greenlee counties as an 'ACEs hot spot' with 53% of the total population experiencing five or more exposures to adverse childhood experiences, the highest in Arizona.
In addition, the COVID-19 pandemic has put high levels of stress on all families, which plays out differently in small children who may not have the ability to express themselves.
At Palomita, an early childhood mental health consultant supports 12 teachers in five classrooms that serve toddlers through preschoolers. The consultant visits the classrooms at least once a month, but will visit as often as requested, said Nisha Spitzer, the center's assistant director.
Some examples of situations that consultants can help teachers better manage include a child that is experiencing challenging behaviors, such as not being able to regulate their own body and emotions, hitting other students, not following classroom transitions or having difficulty communicating.
"(The consultants) go into the classroom and observe," said. "They stand back and don't jump in to correct the behavior. They do a lot of observing to provide ideas for the teachers. 'I notice so and so isn't using his language. Try getting down on their level to help them relay what they're wanting.'"
The consultant provides different approaches to the scenarios they are seeing in the classroom.
"I've seen teachers be at their wit's end," Spitzer said. "They'll say, 'I'm exhausted in trying to work with this child.' The extra help and support helps a teacher take a breath and help them feel like they can deal successfully with a challenging situation."
The intent is to build capacity and confidence, Wills said.
"Over the last few years, families have undergone different stresses and that manifests in their interactions with children," she said. "Mental health consultation is key.  When a new situation comes along, teachers feel like they have the techniques in place to help children cope, which makes (the children) feel safe. It's a ripple effect that provides the child with a solid foundation for growth."